Family B
lue Whale Bonanza!
2022 DATES:

 09 – 23 April, 28 May – 04 June
 2023 DATES: 08 – 22 April, 27 May – 03 June 
Join us in the spring to witness one of nature's great events, huge gatherings of the biggest whales on the planet to these unspoilt Azores Islands to feed in the nutrient rich waters – a breath taking spectacle!
Sao Miguel Island, Azores
Prices from £835 adult, £630 teen and £435 child
Incredible Sightings
With the help of land based lookouts we see whales and dolphins on 98% of our trips to sea!
Join us at the optimum time to see the majestic Blue Whales, Humpback and Fin whales migrating past the islands.
Read More
Spring is an incredibly exciting time in the Azores and definitely the best time to go. Take a voyage of discovery beneath the ocean with our local marine biologists. This holiday takes you out to the open seas to see these ocean giants and teaches you all about these incredible creatures and the creation of the islands, that took place over 20 million years ago.
Be inspired! Marine wildlife, sea air and the wow factor
Read More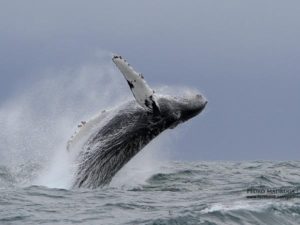 You and your family will come away bursting with facts about the world's largest whales and the unique biodiversity of the islands. We hope you will deepen your passion for the natural world and more importantly return home with memories that will last a lifetime.
"We were on the cat and a huge gasp went up from everyone on board; a fin whale had swum in front of the boat and opened its mouth out of the water to feed. It was only a split second but that sight is engraved on my memory." Margaret Merris 
Why are the Blue Whales "Ocean Giants" choosing the Azores?
Read More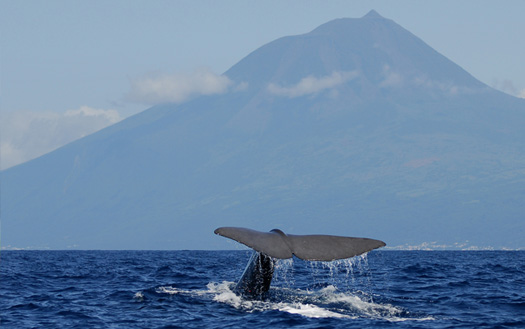 Cetaceans are drawn to the Azores as they know there is a plentiful food supply. In the Springtime there is a  phytoplankton bloom warmed by the temperate waters of the Gulf Stream around the Azores archipelago which has resulted in a unique gathering of huge, ravenous Baleen Whales: Blue, Fin and Humpback on their migration routes to the feeding grounds of the northern Atlantic. This is one of nature's great events, the whale equivalent of an all you can eat buffet – this is why we call it the "Gulp Stream".
"The Azores is one of the best places in the world to see Blue Whales with such an abundance and variety of species. These fascinating Islands at sea and on land are easy to reach from Europe on a direct 3 hour flight!"  
The Azores archipelago is renowned as one of the best places to see dolphins and whales in the wild. Throughout the year, March to October being the best time to visit for abundant sightings and diversity of species. The whale numbers and sightings seem to be increasing around the Azores, as are the super pods of various species of dolphins riding in the bow wave of the boat and leaping and twirling with joy. All our trips are with responsible operators who have sensitivity and respect for the wellbeing of the whales and dolphins. The ethos on the Islands is to preserve the natural environment and develop responsible and sustainable tourism that contributes to conservation.
Island Tour included in your holiday
Read More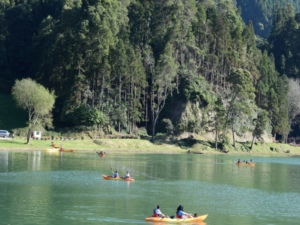 Our knowledgeable local guides will be with you at sea and also on land so you will have a truly authentic experience!  They will take you to the geysers deep in the island's interior at Furnas and teach you about the geothermal activity. Your visit will include a swim in hot thermal pools and lunch (cooked underground) in a local restaurant. Free time can be spent exploring the island at your leisure, you might choose to do this on foot, on a family bike tour or even by kayak, visiting the stunning botanical gardens, enjoying presentations from our marine biologist guides or simply relaxing by the pool.
Read More
We offer attractive child prices (12 years and under) when sharing a large quad room with adults and also teen discounts. You can select the style and budget of an accommodation option that suits your needs. Our standard 4* hotel is included in the package price and you can upgrade to a boutique 5* hotel or you can opt for a budget option to reduce the cost of holiday.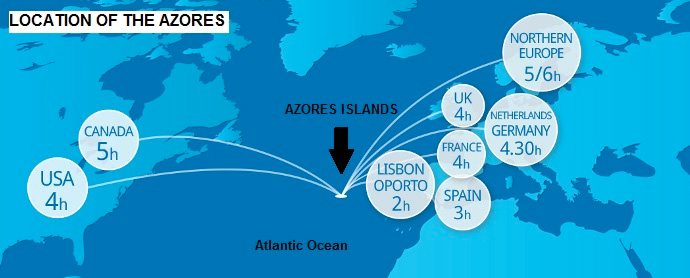 Location and Flights
Location: Ponta Delgada, Sao Miguel Island, Azores. The Azores, an autonomous region of Portugal, are an archipelago of 9 islands in the mid-Atlantic. Our holidays are based in Ponta Delgada, the capital of Sao Miguel Island – the largest island in the archipelago. The abundance of dolphins and whales around the islands make the Azores one of the key locations worldwide for whale and dolphin watching. Few locations in the world offer such immaculate landscape and exceptional marine wildlife. Read more about the Azores here
Flights: Flights are not included in the cost of our holidays. This holiday takes place on Sao Miguel island, Azores and you will be staying in Ponta Delgada, a 15-minute drive from the airport. DIRECT flights to Ponta Delgada are available with Ryanair from London Stanstead on Saturdays. There are also direct flights from many European destinations to Ponta Delgada including via Lisbon. Check options for flights to PDL (Ponta Delgada) at www.skyscanner.net For ease we have a dedicated flight agent who can help arrange and book flights for you. Please contact Rupender.Bhoday@flightcentre.co.uk or call Rupender on 0207 925 1114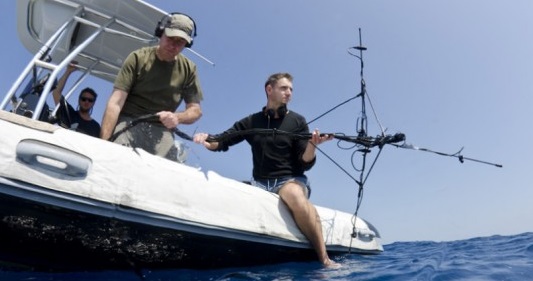 BE A MARINE BIOLOGIST FOR THE DAY
£124 (adult) £62 (child 12yrs and under)
All of our holidays offer the once in a life time opportunity for you to "Be a Marine Biologist for a Day" – the perfect program for those with a keen appetite to learn. You will enjoy a fun filled classroom presentation from one of our marine biologist before spending a full day with them on a small RIB learning research techniques such as data collection, photo ID and listening to underwater acoustics using the hydrophone. You will get away from the main tourist trail and have opportunities for a lot more contact with the animals. This a fully immersive day allowing you to step inside the shoes of our marine biologists and learn about their research. This activity can be added onto your holiday program.
Your day starts at our local boat base, walking distance from your hotel, with a fun filled classroom presentation from one of our marine biologists. You will then board the sturdy RIB zodiac boat and spend a full day at sea, travelling further along the coast to rich feeding grounds, giving you a closer look into the lives of the whales and dolphins you'll meet – some are even known by name!
You will be accompanied by our expert local guides and marine biologists who love sharing their extensive knowledge of these incredible creatures. They will teach you research techniques such as data collection, photo ID and listening to underwater acoustics using the hydrophone.
You will break for lunch, on land, joined by your marine biologist so be sure to ask lots of questions!
You'll learn about the biology, habitat and behaviour of the cetaceans and participate in valuable research and conservation initiatives helping to preserve the oceans for future generations.
This is a superb addition to any trip and is ideally suited to adults and children who are keen to get hands on in the world of conservation.  Your little budding marine biologists will love the exciting and energetic way our research experts teach techniques and engage the children in learning.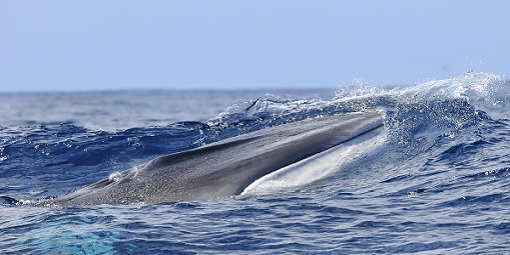 Sample Itinerary
Day 1
Arrival day – You will be met at the airport and transferred to your hotel.
Day 2
Enjoy a leisurely morning exploring the local town and walking around the stunning botanical gardens. You could even take a dip in the towns naturally heated open air pool before heading down to the boat base for your first half day whale and dolphin watching trip to sea. You will be given the onboard briefing all about Marine life in the Azorean Ocean, how we work and how best to spot the whales.
Days 3-4
Days 3 to 4 inclusive: Overall itinerary of the week will be announced when you arrive to fit with best weather. Each day will be either morning or afternoon boat trip. If there is any weather disruption your trips will be moved to another day or later in the day so that you go out during the best possible weather and conditions.
Day 5
Free day to add on an activity that suits you. Join a walking or mountain bike tour, try kayaking or SUP on the lake, or take the plunge and go canyoning.
Day 6
Full day Geothermal tour to Furnas : You will be taken to see the Island's hot springs, geysers & hot bubbling mud. Take a dip in the hot thermal lake surrounded by the tropical plants and trees of a magnificent Garden which was planted by Kew gardeners 100 years ago!
Day 7
Free day or take another half day at sea whale and dolphin watching giving you more chances of sighting the giant whales or visit the local lava caves.
Day 8
Departure. If you have time before your flight you can do some souvenir shopping. You will be picked up from your hotel and taken to the airport
Best time to see Blue Whales
Read More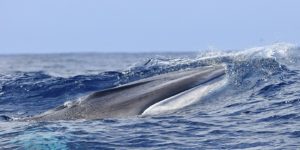 The dates of these holidays are the best time to see the largest whales on the planet as they migrate past the Islands ensuring you get the most amazing sightings and memories that will stay with you. LINK TO BEST TIME TO VISIT THE AZORES
Read More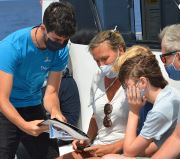 You will be accompanied by our expert local guides and marine biologists who love to share their extensive knowledge on the whales and dolphins you'll meet – what they don't know isn't worth knowing. There will be talks and presentations before heading out to sea so you will be well prepared. The guides have loads of experience working with children and always present in a fun and exciting way, to make sure everyone can learn and get involved.
LINK TO MORE INFORMATION ABOUT OUR GUIDES
Education and Conservation
Read More
Our whale watching company has a research base offering a wealth of information and resources and it is possible to learn about the many research projects being conducted around the Azores which contribute to marine conservation. Your budding marine biologists can ask as many questions as they like, our researchers love sharing their knoweldge. 
LINK TO MORE INFORMATION ABOUT MARINE EDUCATION AND CONSERVATION
Read More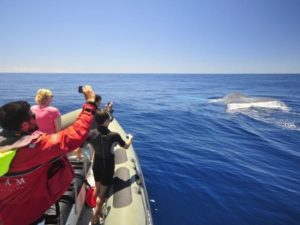 You choose your preference of boats from the large stable catamaran with excellent viewing platforms, railings and a great vantage point for taking photos. There is plenty of space to walk around outdoor or indoor seating and toilet facilities OR our smaller RIB zodiac hard hull boats with comfortable seats for an exhilarating ride to get you close to the action. The boats are very sturdy and can move easily even if the sea is choppy.   LINK TO MORE INFORMATION ABOUT BOATS
Overview
Family Blue Whale Bonanza

(code FAMBWB)
Location: Ponta Delgada, Sao Miguel Island - Azores
What's included:  
Three half day trips to sea, at the optimum time to see Blue Whales
Full day geothermal tour to Furnas with "Cozido" lunch included
Talks and presentations from local marine biologists
7 nights accommodation 
Services of local personnel at our boat base who co-ordinate your entire holiday program
All airport transfers from/to Ponta Delgada airport
Optional activities: Book additional trips to sea and land tours
Nights: 7
Extra nights: Option to extend your stay in the Azores, with extra nights at your hotel, visit another part of Sao Miguel or visit other islands
Accommodation: Standard 4* B&B hotel, with budget and upgrade options available
Meals: Breakfast included. Lunch included during full day land tour to Furnas. Self catered options available
Price: From £835 per adult, £630 teens and £435 children sharing a family room. See below for details
Flights: Not included. We give you guidance on booking flights to Ponta Delgada (PDL) Sao Miguel Island, Azores. See location and flights above
Dates 2021: 10 – 17 April, 29 May - 5 June
Dates 2022: 09 - 16 April, 28 May - 4 June
Flexible dates: This holiday can also be arranged to start any day of the week to fit with flights
"Seeing the ocean giants so close was amazing. I recommend booking this experience, and think about adding an extra week to visit the other islands.
The company carries out research and raises awareness of the whales and dolphins and how amazing they are. The information given by the guides was fantastic They work with the university, helping with student research as well as taking out holiday-makers. An excellent holiday." Sarah Grandy
"Seeing far more whales, and more closely, than I ever expected. I think it supported conservation. A wonderful experience." Anne Whittle
"We were lucky enough to see our first blue whale within an hour of setting out in the catamaran. Then seeing over 50 whales and over 100 dolphins over the three days was amazing. We saw blue, fin, sei and sperm whales.
Fantastic holiday! We saw everything we hoped for and more. The Azores are an amazing holiday destination and we enjoyed seeing the interior of the island with its lakes, mountains and geo-thermal activity. As plant lovers, we particularly enjoyed the botanical gardens. We will be back." David Turley
"Many thanks to you and the team. We had a really lovely holiday. Loved our two days out at sea, in particular the 'Be a Marine Biologist Day'. We saw sperm whale, sei whale, risso's dolphins and had an amazing encounter with a large group of bottlenose dolphins. Kids also fascinated by flying fish and Portuguese man o war. Really knowledgeable and engaging guides, they really caught the kids attention who were very excited to learn how to use a hydrophone and listen to the animals underwater
Also enjoyed getting out and about on Sao Miguel, using the hire car to reach a number of fab walks provided by tourist information office and also swimming in thermal pools. Accommodation was great, all the arrangements worked perfectly smoothly and it was a bonus to be in Ponta Delgada for their annual festival. All in all a great experience. Thank you!" Rosalind Roberts
"The whale and dolphin watching trips were brilliant – the trips on the RIB were great as we were close to the animals. The special tour "Be a Marine Biologist for a Day " trip on the RIB was the highlight and our kids loved it. We saw Sperm Whales, Fin Whales and a Humpback and Common and Bottlenose Dolphins. On the full day trip we were often the only boat around as we had more time and other trips aren't out on the sea at lunchtime. All in all we had a fantastic time…" Purslow family May 
Prices for this Holiday and Acccommodation
 Our holiday prices below include accommodation at our standard 4* Sao Miguel Park Hotel
You can also upgrade to a boutique hotel or 5* or you can opt for budget options to reduce the cost of your holiday.
A beautiful 4-star hotel with excellent location and facilities. It is a 15-minute walk to our base for the boats and the city's beautiful botanical gardens are close by. The rooms are light, quiet and well-ventilated. Even though the hotel has great access to our boats, the hotel is far away from the noise of the seafront or busy city areas.
The hotel is ideal for families or large groups and rooms can easily accommodate up to two extra beds. Spacious rooms are sound proofed with air-conditioning and equipped with TV and fridge. There is the option to upgrade to sea/city view rooms (ask us for details). The hotel has a gym, indoor and outdoor pool with sun loungers, sauna, jacuzzi, games room, bar, restaurant with sea views and free parking for guests. A buffet breakfast is included. 
 Family Blue Whale Bonanza Holiday per person prices
 4* Sao Miguel Park Hotel
Mid Season • 01 - 30 April
---
Adult price (2 adults family room) £835
Additional adults/teens aged 13yrs + sharing with 2 adults (family room) £630
Additional children 3 - 12yrs sharing with 2 adults (family room) £415
Infants 0 - 2 years £50
Price does not include flights
High Season • 01 May - 04 June
---
Adult price (2 adults family room) £925
Additional adults/teens aged 13yrs + sharing with 2 adults (family room) £645
Additional children 3 - 12yrs sharing with 2 adults (family room) £415
Infants 0 - 2 years £50
Price does not include flights
All of the accommodation featured below has been visited by us and checked for quality, good reviews, facilities and distance to our boat base and the harbour (5-20mins walk). They are also a short walking distance to good restaurants and shops.
The price of this holiday with any of our alternative accommodation options below is the standard holiday price (staying at 4* Sao Miguel Park Hotel) with either a discount or supplement applied. Please see your preferred accommodation page below for details of the applicable discount or supplement.