Swimming with Wild Dolphins, Azores
Eye to Eye with a wild dolphin underwater has to be one of the most profound experiences of my life – it was as if the dolphin could see into my soul!
The Azores is one of the best places in the world to swim with wild dolphins - they are so curious and playful
With help of land based lookouts we see whales and dolphins on 98% of our trips to sea!
Learn from the marine biologist guides about the dolphins in the Azores
The holiday of a lifetime
Dolphins, Dolphins!
Meet these curious and playful mammals underwater wearing your mask and snorkel looking through the crystal clear ocean depths.
"Eye to Eye with a wild dolphin underwater is surely one of the most profound experiences of my life. My heart leapt with joy!"
Tour description
Your experience starts with a briefing to learn how to swim in the open ocean with the wild dolphins. Our expert guides will ensure you know what to expect and your safety and confidence are at the heart of the preparation.
More information
A short distance from the shore we will be guided to the dolphins with the assistance of our expert land based lookouts. It is an absolute joy see large pods of dolphins leaping with joy over the ocean waves, jumping and dancing in the bow waves just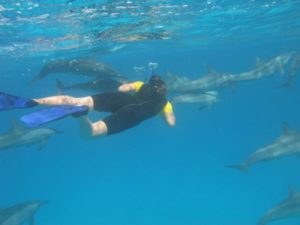 an arms' length beneath your gaze. Both in the water and watching from the boats, you will feel part of the dolphin's magical underwater world, seeing their exquisite movements and listening to a symphony of sound. It usually takes a little time to get confident and you will be assisted all the way as you climb off the boat and look beneath you. It is a very exhilliarating feeling and we ensure all approaches by the boats and people are done with minimum disturbance where the encounters are on the dolphin's terms. They are very curious and it is a delight to witness their natural behaviour hunting, socialising and playing.
"The numbers of boats were well regulated and the dolphins are approached responsibly with minimum disturbance. We found the guides looked after us and as confidence grew during the week we had some very exciting moments seeing the dolphins right beneath us, truly magical " Anne Johnson and family
Tour Highlights
Memorable moments
You will take home some beautiful memories that are guaranteed to stay with you. Guests coming with close family and friends will treasure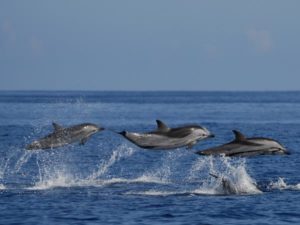 moments shared on this adventure of a lifetime and you will have some amazing stories to tell everyone back home!
Boat trips out to the dolphins
You can immerse yourself in the underwater world of the dolphins taking 3-5 trips (3-hour duration) to the open sea with masks, snorkel, and fins (included). Each time is different and as you get the hang of it you will have more amazing experiences.
Learn responsible boat approaches from our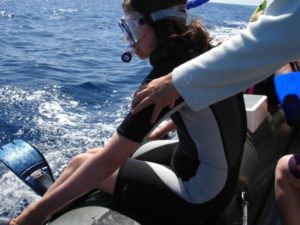 expert skippers and how to behave in the water in a relaxed and confident way resulting in minimum disturbance to the dolphins' natural behaviour. This also means the animals will be calm with us rather than swimming away to avoid us!
 The holiday of a lifetime – the Azores is one of the best places in the world to swim with wild dolphins  – they are so curious and playful , there were so many beneath me in the ocean depths!
Our special program –  learn about dolphins in the Azores from the experts
Our expert dolphin swim guides and marine biologists are there to ensure you get the most from this activity. They give pre-trip preparation information and safety briefing on board, and look after your safety every step of the way. They will give you tips on how to have really great encounters , so at the end of the week you will feel you really know a lot about these beautiful marine ma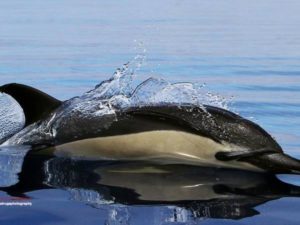 mmals, their behaviour, communication and interesting scientific facts about how they live with information on conserving the habitat of the dolphins.
Welfare of the wild dolphins
We do everything to minimize disturbance upon the dolphins and their habitat. We invite our guests to be involved, giving feedback when on the water and ensuring all operators are following the best practice guidelines.
Best Encounters with dolphins
The week-long program ensures you get the best opportunities for sightings and that you become skilled and relaxed in the water swimming with wild dolphins, so they accept you as part of their world. They can be very curious! The dolphins are often found close to the shore in smaller groups or you can meet the super pods of hundreds of dolphins. Your trips are booked in advance going out from less-crowded areas. If there is any bad weather you will be given priority replacement of trips.
The wild dolphins can often be found close to the shore and they are very curious to ride in the bow wave of the boat – we were very close to their shimmering skin as they burst through the crystal clear water coming  up to breathe –

There were so many dolphins leaping and twirling, it was as if the sea itself was alive!
Swimming with Wild Dolphins
(holiday code ADSWD)
Location: Ponta Delgada, Sao Miguel Island – Azores
What's included:  
Three half day swimming with wild dolphins trips to sea (max 8 people on boat) Swimmers enter the water in pairs, supported by the dolphin swim guide
Swimming with dolphins training and preparation information (safety & best practice guidelines)
All snorkel equipment and wetsuits provided for you and included in the holiday cost
Talks and presentations from local marine biologists in the classroom and on the boats. You will receive a pre trip preparation welcome pack before your holiday
7 nights accommodation
Services of local personnel at our boat base who co-ordinate your entire holiday program
All airport transfers from/to Ponta Delgada airport (flights not included)
Option to tailor your itinerary by adding on more trips to sea whale & dolphin watching and land tours
Optional activities: book additional trips to sea and land tours
Nights: 7
Extra nights: Option to extend your stay in Ponta Delgada or add a short break to Furnas on Sao Miguel Island. Option to add extra nights to visit another Azorean Island (Pico, Faial, Santa Maria, Terceira, Sao Jorge) accessible by internal flight with Sata Azorean Airlines.
Accommodation: From 3* to 5* and boutique
Meals: Breakfast included. Self catered options available.
Price: From £690 per person. See below for further details.
Flights: Not included. We give you guidance on booking flights to Ponta Delgada (PDL) Sao Miguel Island (see location and flights below)
Arrival/departure day: Any day of the week to fit with flights
2020/21 DATES:
01 April – 30 September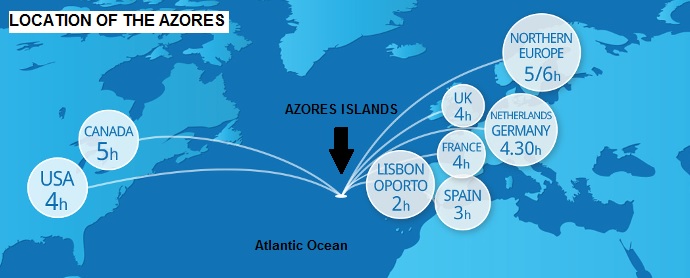 Holiday Location
Ponta Delgada, Sao Miguel Island, Azores.
The Azores, an autonomous region of Portugal, are an archipelago of 9 islands in the mid-Atlantic. Our holidays are based in Ponta Delgada, the capital of Sao Miguel Island – the largest island in the archipelago.
The abundance of dolphins and whales around the islands make the Azores one of the key locations worldwide for whale and dolphin watching. Few locations in the world offer such immaculate landscape and exceptional marine wildlife. Read more about the Azores here
Guidance on booking flights
Flights are not included in the cost of our holidays. To get to Ponta Delgada (PDL), Sao Miguel Island, Azores - DIRECT flights are available with Ryanair (from Stanstead on Saturdays and also on Tuesdays in high season). There are also direct flights from many European destinations and budget flights direct to Ponta Delgada from LISBON. See flight options at www.skyscanner.net For ease we have a dedicated flight agent who can help arrange and book flights for you: [email protected] or call Emma T:01273 776400
Sample Itinerary
Day 1
Travel day. Transfer to the hotel from the airport, with time to settle in.
Day 2
Have a leisurely breakfast. Take a stroll (and discover the surrounding area) to the boat base to review your schedule for the week and meet the team. We highly recommend a whale watching trip to sea in the afternoon which you can pre-book.
Day 3
Your first swimming with wild dolphins boat trip will either be in the morning or the afternoon. Before going out to sea, you will be given a safety briefing and learn about the protocol for boat approaches when swimming with dolphins in the Azores. After learning how best to swim with wild dolphins, you'll head out to sea to put what you've learned into practice wearing your mask and snorkel (supplied). An audio-visual presentation about the many dolphin and whale species in the surrounding waters will be scheduled into your week.
Day 4
Second trip to sea to swim with wild dolphins in the Azores. You will be more confident today; knowing what to expect to get the most out of this once in a life time experience. This afternoon you could take a jeep tour of the island's wild, volcanic scenery, go hiking or explore the famous spots that mark the island's history.
Day 5
Third trip to sea to swim with wild dolphins. You will realise that each one of your trips to sea give very different encounters all dependent on the mood of the dolphins. You might choose to visit the botanical gardens near the hotel, or tour a vineyard and enjoy a wine tasting session. If you prefer to be more active, visit the lakes and kayak, paddle board, mountain bike or join a walking tour.
Day 6
Option to add our "Be a Marine Biologist for the day" whale and dolphin full day research trip learning research techniques such as data collection, photo ID and listening to underwater acoustics using the hydrophone. You will get away from the main tourist trail and have opportunities for a lot more contact with the animals.
Day 7
Take a full day tour of the island's geysers and geothermal craters, and eat local dishes cooked underground using the natural thermals or take another whale watching trip to sea.
Day 8
Depending on your departure time there may be time for one last spot of shopping after breakfast or even an extra boat trip in the morning. Transfer to airport for flight home.
"I was blown away by my first trip swimming with dolphins and saw a pod of 80 dolphins including tiny babies over and over – they kept speeding the boat round to get us in the water as many times as possible and it was an amazing experience" – Clare Davies June 2022
"The holiday was wonderful experience. The location was great, the waters around the Azores are naturally teeming with sea life. Being in the water with wild dolphins swimming around us was such an amazing privilege.
The local boat company were excellent. Very well organised and very professional in the way they approach the animals. They took the welfare of the animals very seriously, far more so than some other local companies we observed. I commend them very highly for their approach.
We had an excellent time! Everything was well organised and went like clockwork. I went with my 14-year-old daughter and she has not stopped talking about it since we came back. A wonderful experience and one we will always remember." Chris Wooding
"We both had an amazing time. Sao Miguel is beautiful, clean, safe and has probably the politest drivers anywhere in the world!
The boat team and staff were so helpful (especially when my daughter was a little nervous about getting in the water). They were also enthusiastic and very knowledgeable.
We swam with 3 species of dolphins and saw Sperm Whales (including calves) and even a whale shark. Also a Portuguese Man O' War (luckily when we were out of the water).
The hotel was spotless and very comfortable. On arrival, they immediately upgraded us to a sea-view room with a balcony. The facilities (gym and pool) were excellent and the food was very reasonably priced." Nick Tullett
"I celebrated my 50th birthday on this truly incredible holiday. We went in July 2020 during Covid Pandemic and we were some of the first tourists to visit the island.
Swimming with dolphins in the wild was the main reason we went and I was not disappointed. Seeing the dolphins and whales in their natural environment was truly spectacular. One of the most memorable moments was being completely surrounded by dolphins on the small rib boat. Then getting in the water, and seeing dolphins everywhere. I was so lucky and had a dolphin swim directly towards me, which I managed to capture on my underwater camera. It was truly amazing. We also saw Sei whales and sperm whales.
Amanda and Gaynor helped make my dreams come true.
Relax Relax Relax! and you will see more." Linda Hunt
"The whale and dolphin watching trips were brilliant – the trips on the RIB were great as we were close to the animals. The special tour "Be a Marine Biologist for a Day " trip on the RIB was the highlight and our kids loved it. We saw Sperm Whales, Fin Whales and a Humpback and Common and Bottlenose Dolphins. On the full day trip we were often the only boat around as we had more time and other trips aren't out on the sea at lunchtime. All in all we had a fantastic time…" Purslow family May 
Prices for this Holiday including Acccommodation