Who we are & our philosophy
Read More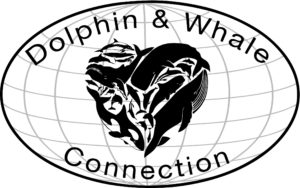 The Dolphin and Whale Connection Ltd is based in Brighton on the south coast of England. We have been established since 1995.
Inspired by an extraordinary experience with wild dolphins in Kaikoura, New Zealand, Amanda set out to find a destination that could match the deep waters and landscape, of mountains and lakes, a little closer to home. She didn't have to search for long before she found the Azores.
From the beginning The Dolphin and Whale Connection set out to be a responsible tour operator. We are extremely anti-captivity and believe the only way one should see wild animals is in the wild. We are aware that there are swim with dolphin programmes that exploit the animals and we are resolute that our programmes are: responsible, sensitive and respectful to the animals, with a low impact on there on their natural behaviour and environment.
Our whale watching company has a research base offering a wealth of information and resources for our guests. It is possible to learn about the many research projects and conservation efforts being conducted around the Azores. Our guests are very impressed by the high standard offered by our boat company who are dedicated to offering you the best experience, as well as ensuring that all boat approaches are done in a responsible way where the welfare of the whales comes first. We are involved with marine conservation initiatives through campaigns and awareness raising films. We are a member of the WCA – The World Cetacean Alliance
We have been taking groups to the Azores for over 20 years and have specialist knowledge of the marine life and the islands.We maintain a small and personal approach so that everyone feels welcome and well taken care of. It is a privilege for us to facilitate each person's unique adventure with the dolphins and whales.
Our guests are welcomed into the company of people who have dedicated their lives to marine conservation and to developing sustainable ways to introduce humans into the world of dolphins and whales. Our team love what they do with a passion. We offer a wealth of experience, expertise and sensitivity in how we introduce people to these playful and highly intelligent creatures.
Read More
In the Azores:
Our team have 20 years experience with expert and friendly skippers and marine biologist offering talks about research projects and life in the Azorean Ocean. Our priority is getting you to the action and the team will do everything they can to ensure you get the best opportunities for sightings.
Resident lookouts or "vigia" to locate the whales and direct boats to the action by radio contact, thus guaranteeing more sightings. You will go out at best times to see the dolphins and whales.
Boats are maintained to a high standard by in house boat engineers and are never more than 3/4 years old thus we offer a very reliable service with high safety standards which is important for our guests.
Our boat company also arrange all our land tours and have excellent trained guides. We book all sea and land tours through one company who manage your whole itinerary during your holiday. If there are any boat cancellations they will be replaced at another time during your stay. This service is invaluable as if there is any weather disruption, flexibility is the key.
English, French, Portuguese, German and Dutch spoken.
Read More
The personal touch…
These trips are real adventures… opening doorways to new discoveries and possibilities. The groups are small and friendly. It is beautiful to share our stories of this experience with others. Many of our guests are touched by the quality of care from our team who are there to listen and respond to everyone personally.
Responsible Tourism and Local Relationships
We have spent a great deal of time researching each location and only work with local people and companies who have high standards of professional expertise and environmental awareness, as well as considerable wisdom and sensitivity in how they approach the dolphins. We follow responsible whale watching regulations. Our relationships with the local people have grown over the years in mutual trust and respect – it is a privilege to introduce our guests to them and cultivate a unique, sustainable eco-tourism.
Group Affinity
Something extraordinary seems to happen to people on the trips and there is a lot of 'connection' in sharing the adventure with others of like mind and spirit. Due to the nature of what we are doing together, there is an especially warm, friendly atmosphere in the groups and you feel, both out on the water and back on the land, that you are all sharing in something rare and special.
The Spirit of The Dolphin & Whale Connection
Reconnecting with Nature
It is very special to be on the open ocean when these wild animals choose to interact with us. For many there is a profound relationship with nature and life at a very subtle level. We are often more in touch with our instincts and intuition. People frequently describe feelings of love, openness and confidence. They often experience a freedom of spirit and imagination they hadn't known before and return home more inspired and openhearted.
Respect for Nature
Our purpose in introducing people to these magnificent creatures, is to raise awareness of conservation issues and the delicate balance of earth ecology. People often take back into their lives a sense of how they want to contribute to the sustainability of the environment and build more holistic lifestyles as a result of their personal experiences. We also inform our guests of campaigns and conservations initiatives they can be involved with.
Other Dimensions
From our observations out on the water with the dolphins and whales, we see the "Dolphin & Whale Connection" as opening up other realms of sensing, feeling and perceiving. In the same way that listening to music, rhythm and sound can transport us to another plane of experience, so can the presence of the dolphins and their sound vibrations lead to a heightened experience of our feeling nature and other dimensions of reality.
We are a partner of the World Cetacean Alliance
Read More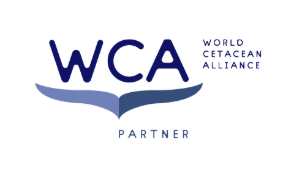 The Dolphin and Whale Connection are a founding member of the World Cetacean Alliance.
The World Cetacean Alliance (WCA) is a global partnership of scientists, non-profit organisations, whale watching tour operators and the general public, all working together to protect whales, dolphins and porpoises (cetaceans). The World Cetacean Alliance connects its Partners both nationally and internationally. This local-to-global approach enables the Partnership to deliver coordinated and practical strategies on the ground whilst representing the views of its Partners on the international stage. Through cooperation, the Partners of the World Cetacean Alliance aim to conserve and protect cetaceans and their habitats in the world's oceans, seas and rivers, to ensure their continued health and survival. The WCA believes that local communities hold the key to protecting cetaceans and their habitats, supported by grass-roots organisations, knowledgeable individuals, and ecotourism experts (our Partners). Finally, the WCA aims to expand the global community of people who care for cetaceans, have a desire to learn about them, and respect them. For more info visit: www.worldcetaceanalliance.org
The Dolphin and Whale Connection were innovators of WhaleFest, the world's biggest marine festival. WhaleFest was hosted in Brighton for 5 years, welcoming over 20,000 visitors. We established several creative projects to inspire and educate children and we are immensely proud to have been such an integral part of this inspiring event. The festival boasted giant replicas of sea creatures made out of waste plastics washed up on the coast, artistic displays, films, music and a number of guest presenters, from celebrities to environmental experts, including Michaela Strachan, Doug Allen and Steve Backshall amongst other, who joined us on the world stage to express the importance of preserving and protecting our oceans.
Tourism Declares a Climate Emergency 
Read More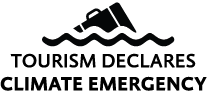 We Declare a Climate Emergency
We've signed up to Tourism Declares, an initiative that supports tourism businesses, organisations and individuals in declaring a climate emergency and taking purposeful action to reduce their carbon emissions as per the advice from The Intergovernmental Panel on Climate Change (IPCC) to cut global carbon emissions to 55% below 2017 levels by 2030.
Like all signatories, we have committed to the following five actions:
1. Develop a 'Climate Emergency Plan' within the next 12 months, which sets out our intentions to reduce carbon emissions over the next decade.
2. Share an initial public declaration of our 'Climate Emergency Plan', and update on progress each year.
3. Accept current IPCC advice stating the need to cut global carbon emissions to 55% below 2017 levels by 2030 in order to keep the planet within 1.5 degrees of warming. We'll ensure our 'Climate Emergency Plan' represents actions designed to achieve this as a minimum, through delivering transparent, measurable and increasing reductions in the total carbon emissions per customer arising from our operations and the travel services sold by us.
4. Encourage our suppliers and partners to make the same declaration; sharing best practice amongst peers; and actively participate in the Tourism Declares community
5. Advocate for change. We recognise the need for system change across the industry, and call for urgent regulatory action to accelerate the transition towards zero carbon air travel.
Please consider also declaring at www.tourismdeclares.com, and follow on @tourismdeclares on Twitter, Facebook or Linkedin
Read More
The Dolphin and Whale Connection have a large dedicated team, with some of us working in the office and others accompanying the tours as guides. We also use the services of local experts at the location to look after our guests.
The Team
---
Amanda Stafford
Amanda founded The Dolphin Whale Connection and has spent many years exploring her fascination with dolphins, whales and the marine environment. She has worked in the field of cetacean research and inter-species communication. She is also involved with environmental conservation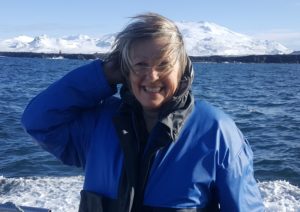 and is actively involved with the World Cetacean Alliance and whale-fest.com. We are a sponsor of whale-fest and promote many of the holidays there.
Amanda is an "eco-prenneur" keeping the vision of responsible tourism and conservation alive in the continued growth of The Dolphin & Whale Connection. Above all she has an infectious enthusiasm and passion about dolphins and whales. She believes being in their presence can inspire and empower changes in how we live a more meaningful life. "Over many years swimming and interacting with wild dolphins, I have found a relationship with life that is less and less interrupted by self-doubt and negativity. There is more and more fun, love, abundance and freedom." There is also a deeper desire to give something back to the magnificent oceans and preserve them. She is an active partner in the WCA which campaigns against specific issues threatening cetaceans.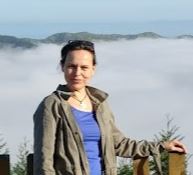 Gaynor Evans
Gaynor has over 20 years experience of working within the travel industry and takes care of all the booking details. She is very helpful and makes things run very efficiently so that you receive a high level of customer service. If you have any queries when booking, she will be with you every step of the way. If you have any questions about the arrangements for your trip at anytime, just give Gaynor a call on 01273 882778 or send her an email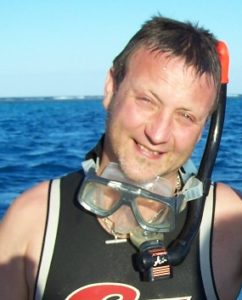 Jon Spong
Jon is our technical guy and also co-ordinates some of our business marketing. He is passionate about swimming with wild dolphins and is a competent scuba and free diver. On trips with the Dolphin and Whale Connection together with his son, they spend more time under the water than above it! He takes very little persuading to participate in any aquatic activities and if he's not down the local swimming pool, he is found surfing on the nearest beach on the South coast of England!
Supporting marine conservation & education
Read More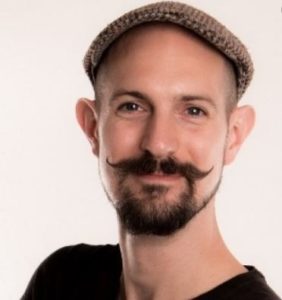 Introducing Russell Arnott
Having been an oceanographer & a physics teacher, Russell now works as Education Consultant & Presenter for WhaleFest / Incredible Oceans for which he visits schools / events around the UK educating pupils of all ages about the marine environment. He has performed at Wilderness Festival, Brighton Science Festival, Cheltenham Science Festival, The Big Bang Fair, Elderflower Fields and the RDS Primary Science Fair. He is also a researcher in phytoplankton dynamics at Bath University.
Russell has produced a power point presentation for our younger guests. Please click here to watch the video presentation online: