These are the answers to the most common questions we have received in the last 20 years from our guests. If you do not find the answer to your question here, please contact us
Read More
You will always see a lot of marine life in the Azores, it is an exceptional destination for dolphins and whales. Spring (April, May and June) is the best time to see Blue Whale, Humpback Whales and Fin Whales as they migrate past the islands and stay to feed on the nutrient rich waters. There are excellent sightings of these ocean giants from all of the Islands during spring. Summer (July, August and September) you are certain to see many species including Sperm Whales, Beaked Whales, Orca, Pilot Whales and super pods of dolphins, as seen on BBC's "Blue Planet. Hundreds of dolphins can be spotted in every direction turning the sea into a bubbling cauldron as they leap and dive in the water! Autumn/Winter (October to March) can be wonderful with 15-20 degree warm weather and a lot of winter sunshine and much quieter with great walks. 

 
Read More
We do not include flights in the cost of our holidays, and we cannot book these for you. Please provisionally reserve your holiday with us then book your flights following the guidance below. We shall then confirm your holiday for you after taking your flight details and payment of your holiday deposit or full balance if due. Airport transfers are included in your holiday.
Flights to Ponta Delgada (PDL) for our holidays that take place on Sao Miguel Island, Azores
Direct flights to Ponta Delgada are available with Ryanair (from Stanstead ). Alternatively, you can get budget flights via Lisbon and Oporto to Ponta Delgada (approx. 2hrs) and direct flights from other European cities, the USA and Canada.
For ease we have a dedicated flight booking agent, Rupender Bhoday from The Flight Centre (highly rated on Trust Pilot). Rupender knows our holidays and can book the best flights for you. Please email:  [email protected]  or call: 07442 857639. You can also reach her via The Flight Centre main contact number 0207 925 1114 (ask to speak to Rupender Bhoday on the "Associates" team).
You can also check options for flights to PDL at www.skyscanner.net
Flights to Pico Island (PIX) or Horta on neighbouring Faial Island (HOR) for our Blue Whale Ocean Giants Tours that take place on Pico Island, Azores
Our tour dates run Saturday to Saturday. You will need to fly via Lisbon to get to and depart from Pico on these dates. Or fly via the neighbouring island of Horta (direct flights from Lisbon) and get the ferry to Pico from there (approx. 30 mins). Check ferry timetable before booking and you can purchase tickets online (link for the ferry operator  here)
Flying to PICO (PIX) via Lisbon (LIS), Portugal is the most straightforward. There are many budget airlines who fly to Lisbon from the UK and other destinations and from there you can get a flight to Pico. Check options for flights to PIX (or HOR if you plan on arriving in neighbouring Faial Island and getting the ferry to Pico Island) at www.skyscanner.net For ease, contact our dedicated flight agent who can help arrange overnight accommodation and book flights for you:  [email protected]  or call Rupender T: 0207 925 1114.
Flight prices vary a lot depending on which day you fly. You can get there in one day or stay overnight in Lisbon and take an early flight to the islands the following day. It is good to book as early as possible and if you can, be flexible on your travel days to enable you to get the best deals.
If you need to extend your duration to suit your flights, we can book additional hotel nights in The Azores. Please see below for a few hotel options in Lisbon.
4-Star Hotel Tryp (right beside the airport and the most convenient)
4-Star Radisson Sas  ( very near airport)
4-Star Marriott or Holiday Inn (10 minutes away from the airport)
3-Star Roma (4 kms away from the airport)
Residencial Vila Nova (airport bus stops outside, 10 mins to airport)
Hotel Dom Carlos Park (airport bus stops outside, 10 mins to airport)
How is the money I pay for my package holiday protected?
Read More
We understand how important it is for you to have peace of mind and know that the money you give us for your package holiday is properly protected.
Whatever kind of package holiday you're taking with us, your money is 100% protected. By which we mean if we were to cease trading at any point after receiving your payment, you would be 100% guaranteed to get that money refunded to you in the event that your holiday couldn't go ahead. Our package holidays are all covered by Trust My Travel who are authorised to hold your payment in a trust account until you have returned from your holiday.
You will be given a payment link to pay Trust My Travel directly and they will hold your payment in a trust account until the successful completion of your holiday.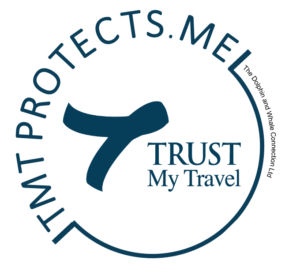 At this point they release the money to us to pay our suppliers. We pay a premium per booking and if we were to cease trading prior to your holiday, this ensures that Trust My Travel will refund to you all monies paid to us for your package holiday.
Trust My Travel are a fully compliant financial protection service that is endorsed by ABTA and ATOL as well as AITO The Association of Independent Tour Operators. More information about Trust My Travel and financial protection can be found here.
What is the weather like?
Read More
The Azores has an equable climate all year round. We have found the summer to be the best time for our trips. Temperatures range from a mild 16°C (60°F) in winter to a comfortable 26°C (79°F) in summer. The sea is warmed by the Gulf Stream. Sea temperatures in summer are 20-22°C
Average monthly temperatures are given below for the Azores
| | | | | | | | | | | | | |
| --- | --- | --- | --- | --- | --- | --- | --- | --- | --- | --- | --- | --- |
| | JAN | FEB | MAR | APR | MAY | JUN | JUL | AUG | SEP | OCT | NOV | DEC |
| Max °C | 16 | 16 | 17 | 16 | 19 | 21 | 24 | 25 | 24 | 21 | 19 | 17 |
| Min °C | 12 | 11 | 12 | 13 | 14 | 16 | 18 | 19 | 19 | 17 | 15 | 13 |
| Rainfall (mm) | 112 | 98 | 81 | 65 | 56 | 49 | 35 | 54 | 90 | 100 | 115 | 120 |
Who comes on the holidays?
Read More
Our guests vary from couples, friends and families to independent travellers.  We have special holidays that are most suitable for families and those that are more adult- focused. The small group tours are great for solo travellers to easily meet others and people who like to mix socially and have all details taken care of by our dedicated guide.
These holidays are an adventure. What we offer is an active experience of the whales and dolphins, which is very exhilarating and the opportunity to spend time in the regenerating power of nature and explore these remote islands.
What can I do to prepare for the holiday?
Read More
Although our expert guides will be sharing their knowledge with you on every sea excursion you may want to brush up on your whale and dolphin species.
Practise using your cameras and binoculars.
Get excited!
You may also like to read books and watch films and documentaries about whales and dolphins. A few we recommend are:
Blackfish (YouTube or Prime)
The Cove (free on You Tube)
In the Wild – Dolphins with Robin Williams (free on You Tube)
Can you tell me more about the guides on the boats and your team?
Read More
All of the dolphin and whale watching trips are hosted by our local team: marine biologists, guides on boats and front desk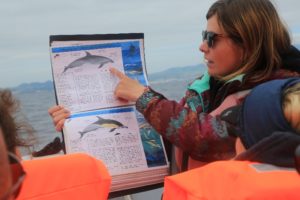 team. This means that any queries you may have can be discussed with the front desk and any extra trips can be booked directly. Before going out to sea you will be given an informative presentation all about the marine life in the Azores from the resident marine biologists.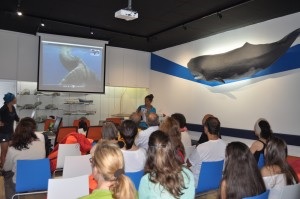 When on the boats the guides and marine biologists will ensure you get information about the sightings as well as supporting you to get the best sightings possible.
The local team love what they do with a passion and are very enthusiastic to ensure you have the best possible time.
What boats are used for the whale and dolphin watching trips to sea?
Read More
Choose from either a large stable catamaran for great vantage points, toilet facilities and indoor/outdoor seating. or our faster hard-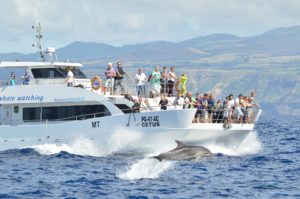 hulled rigid inflatable boat (RIB) for an exhilarating ride and to get close to the action quickly. The RIB's have cushioned seats and almost "fly" through the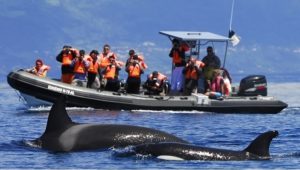 water. We offer flexibility when booking these holidays to fit with your timing and preferences. You can add on more trips to your holiday as you choose. 
Do the boats disturb the whales and dolphins?
Read More
In co-operation with the local Azorean authorities, a recognised code of conduct and ethics on the water has been established (see best practice guidelines below). These regulations ensure the whales and dolphins, people and the environment are respected. The dolphins love the boats and play in the bow waves. We would never endorse anything that disturbed them. There is a wonderful spirit of co-operation and mutual respect out on the water. We keep a specific distance away from the big whales, although the incidence of whales approaching us, with engine off, has been increasing and is very exciting.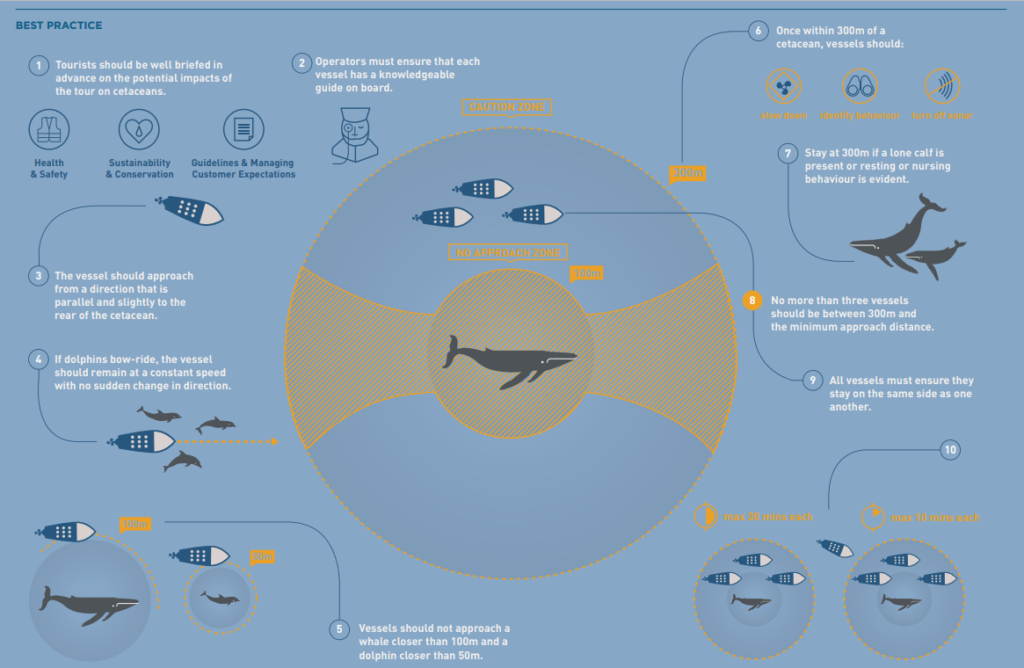 What if I do not see any dolphins or whales from the boat?
Read More
In the unlikely event that you do not have any sightings during your trip to sea you will be offered another trip free of charge by our local boat company.
Read More
For those participating in the swimming with dolphins in water encounters, we can say there are no dangerous sharks around the Islands.
Obviously in the open ocean there are some sharks, however they generally inhabit a region much further from shore than our boats go out (we tend to stay close to the coast) and they are quite satisfied by their plentiful food supply. We have never had an incident where a shark has approached a swimmer. They would be very wary and as far as we know, none have ever approached a swimmer in a detrimental way with no reports here. Very occasionally, we do hear of sightings of Hammerheads or other non-dangerous kinds of shark, but they are known not to come near boats when there are dolphins around. The guides are of course vigilant and would see a shark fin if one was in the area.
What if there are adverse weather conditions that prevent us going out on the ocean?
Read More
Safety is our prime concern and, on occasion, boat trips must be postponed. As the Azores is an oceanic climate, we cannot determine the weather. Although the seasons we choose are the most favourable, adverse sea conditions, caused by winds, may mean a boat trip is unexpectedly postponed. We have made allowances for the weather by advance provision of additional trips, so we can be flexible to fit in with the weather. In the unlikely event of your trips being delayed due to bad weather, alternative activities will be arranged and replacement tours will be re-booked for later in the tour. Even with some bad weather, it is extremely rare to not have all scheduled trips. If we are unable to reschedule or rebook another trip (either sea or a land based alternative) you will receive a refund of the money you paid for your sea based tour.
I suffer from seasickness – what do you recommend?
Read More
Few people on our trips have been affected by seasickness, but if you think you might, please bring your preferred treatment, as we do not supply any medication. There are local pharmacies on the islands.
How about travel to the islands, being met at the airport and general holiday logistics?
Read More
We will talk you through all the travel details and recommend the best flights to book for your holiday.  Our representatives will be there to meet you on arrival at the airport and accompany you to your accommodation. You will have a program of sea/land trips for your week with full details and instructions about what to take, hotel pick up times for land tours and the location of our boat base for boat check-in. On departure day, we will collect you from your hotel and take you to the airport in good time for your flight home.
Are special diets catered for?
Read More
In the hotel, good vegetarian food is available. There are some vegetarian/vegan restaurants. Gluten free options can be catered for – Local supermarkets stock vegan/gluten free/ plant based products in the town centre.
It is not always possible to cater for specific dietary requirements like food allergies, so please discuss these with us when you book. The standard of cuisine is excellent, offering Portuguese and a mixture of other international influences. There are many local fish and meat specialities.
The following examples of vegan food are likely to be available at breakfast.
Bread with no added milk
Cereals, such as müsli, granola, oatmeal, quinoa
Fruits
Alpro and Organic Beverages and Desserts like coconut, oat, almond
Salt and Water Biscuit and Corn
Butters of vegetable origin
IMPORTANT: Please inform staff at the hotel reception when you arrive if you require vegan substitutes at breakfast (soya milk or soya yoghurt for example). If these are not already stocked at the hotel these are usually purchased for you for the length of your stay.
We highly recommend ROTAS vegetarian restaurant in Ponta Delgada. The restaurant is small and popular so early booking is advised. Please ask your hotel reception to book a table for you or you can email the restaurant before you arrive in the Azores:  [email protected]
Toilet facilities on the boats
Read More
The large catamaran has toilet facilities at the rear of the boat. There are no toilet facilities on the RIB boats. If anyone urgently needs to use the toilet there is a bucket at the back with a privacy screen (guests and skipper all look to the front).
Which currency should I take?
Read More
The local language is Portuguese, although most people we work with speak excellent English. The currency is in Euros. There are cash machines in town. You can pay by credit card for food at the hotel and for souvenirs at the whale-watch base or hotel, or carry some cash.
Car seats for children – Airport Transfers 
Read More
Car seats are automatically reserved for children to comply with EU regulations.
Minimum age for children for activities at sea
Read More
Children of any age can participate in our whale and dolphin watching boat trips on our large, stable catamaran boat with viewing platform, indoor seating and toilet facilities. The minimum age for all other activities on our RIB boat is 8 years. This includes swimming with wild dolphins,  our "Be a Marine Biologist for the Day" full day at sea, whale watching and snorkelling in the reef of the Islet of Vila Franca and half day whale watching trips to sea on our RIB boat.
What type of mask and snorkel will i be given to wear in the Azores?
Read More
You will be fitted with a mask and snorkel like the one in the picture below. These are thoroughly cleaned and are available in different sizes. You are free to use your own mask and snorkel if you prefer and we recommend that you practice with your snorkel and mask to ensure you feel comfortable using them in the water before your trip to sea.
Minimum ages for sea/land tours
Read More
Trips to sea:
– Half day Swimming with Wild Dolphins (3hrs – RIB boat – ages 8yrs and over).
– Half day Whale and Dolphin Watching (3hrs – CAT – all ages).
– Full day "Be a Marine Biologist for the Day" whale and dolphin watching trip to sea (6hrs – RIB boat – includes lunch) ages 6yrs and over.
– July – Sept only full day whale and dolphin watching and snorkelling in the reef of the Islet of Vila Franca– ages 8yrs and over.
Land tours (with hotel pick up and drop off) can include for example:
– Half or full day jeep/van tours to the "Fire Lake – LAGOA DO FOGO" – suitable for all ages. 
– Half or full day jeep/van tours, walking tours, cycling, stand up paddle boarding and kayaking on the lakes at SETE CIDADES LAKES – ages 8yrs and over. 
– Full day tour to volcanic village of FURNAS (bathe in geothermally heated pools and eat lunch cooked underground)  – suitable for all ages. 
– Half or full day guided hiking tours – suitable for all ages. 
– Half or full day guided cycling tours – ages 8yrs and over. 
– Half or full day canyoning – ages 7yrs and over. 
Can I use fins when I swim with wild dolphins in the Azores?
Read More
The authorities in the Azores prohibit the use of fins not only because of splashing but also because of the possibility of guests swimming faster and further than the 50m permitted around the boats. This can compromise the safety of guests and other boats in the area know they are not permitted to come within 50m of another boat. The boats will not be allowed to go out if wind strength and wave height compromises the safety of guests in any way.
What are the top 10 most sighted cetacean species in the Azores?
Read More
Common dolphin – Year round
Bottlenose dolphin – Year round
Risso's dolphin – Year round
Sperm whale – Year round
Blue whale – March-June
Fin whale – March-June
Sei whale – March-July
Pilot whale – April-October
Striped dolphin – March-September
Atlantic spotted dolphin – June-December