Accessible Ocean Discovery
Enabling people with reduced mobility to experience dolphin and whale watching
2024 DATES: Year round
Prices From £795 adult per person (based on 2 people sharing); £1020 solo traveller
(flexible arrival/departure dates to fit with flights)
This set itinerary holiday offers you dolphin and whale watching
Best opportunity for sightings
our skippers position the boat for you 
Sao Miguel Island, Azores
Overview
Location: Ponta Delgada, Sao Miguel Island, Azores
This holiday is suitable for adults and families. If you are a family of more than 2 people, you will need the accessible room plus other room(s) to accommodate other members of the family.
The accessible room has double/twin beds. The bathroom has rails with a shower and shower seat.
What's included:
7 nights accommodation in an accessible hotel, with breakfast
Airport transfers from/to Ponta Delgada
3 x half day dolphin and whale watching
Services of local personnel at our boat base who co-ordinate your complete holiday program
Optional Activities: Book additional trips to sea and land tours
Extra nights: Option to extend your stay in the Azores, with extra nights at our hotel or visit another part of Sao Miquel or another island.
Accommodation: Standard 3* accessible Hotel bed and breakfast included with upgrade options available
Meals: Breakfast is included. Lunch is included during your full day tour to Furnas
Flights are not included. We give you guidance on booking flights to Ponta Delgada
2024 dates: These holidays operate year round
Flexible dates: This holiday can be arranged to start any date of the week to fit with flights
Read More
This holiday is suitable for adults or children with reduced mobility. We have personally selected hotels that are accessible from entrance to breakfast area to bedrooms (with use of lifts) and are suitable for people with reduced mobility.  The bedrooms and en-suite bathrooms are spacious enough for a wheelchair or walker. None of these hotels have hoist facilities and people considering this holiday should be able to weight bear. Electric wheelchairs cannot be accommodated. The transport that will be used for the trips and airport transfers will be able to hold a folded mobility walker and/or wheelchair and you will need to be able to step into the vehicle. For the sea trips, you will need to step onto the Catamaran, where you will be able to sit in your wheelchair for the duration of the sea trip.  If you are unsure if this holiday will meet your needs, please contact us and we will be happy to discuss further.
Explore the ocean and marine life
Read More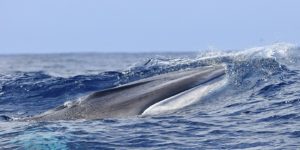 On this holiday you don't just go out on the open ocean to meet our resident whales and dolphins you will learn all about the biology of this incredible ocean, the creation of these volcanic islands and their geothermal activity. Our guides will assist you onto the Catamaran boat to enjoy this wonderful experience. If you visit in the spring, the temperate spring waters of the Gulf Stream create a phytoplankton bloom attracting a unique gathering of huge, ravenous blue, fin and humpback whales, the largest baleen whales on the planet. These whales migrate past the islands and can be seen in April, May and June, close to land as they stop to feed on their way to the northern Atlantic. This is one of natures great events, the whale equivalent of an all you can eat buffet – this is why we call it the "Gulp Stream". The whale numbers and sightings seem to be increasing around the Azores, as are the super pods of various species of dolphins riding in the bow wave of the boat and leaping and twirling with joy. All our trips are with responsible operators who have sensitivity and respect for the wellbeing of the whales and dolphins.
"We were on the cat and a huge gasp went up from everyone on board; a fin whale had swum in front of the boat and opened its mouth out of the water to feed. It was only a split second but that sight is engraved on my memory." Margaret Merris May 2018
Education and conservation
Read More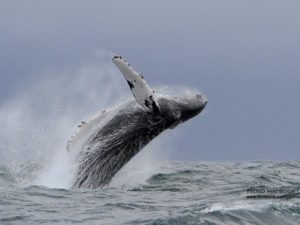 The ethos on the islands is to preserve the natural environment and develop responsible and sustainable tourism that contributes to conservation. You will be accompanied by our expert local guides and marine biologists who love to share their extensive knowledge on the whales and dolphins you'll meet – what they don't know isn't worth knowing. Our whale-watching company has a research base offering a wealth of information and resources and it is possible to learn about the many research projects being conducted around the Azores. Lookouts, the "Vigia" on the shore guide us by radio contact to direct the boats to the whales and dolphins. This makes for consistently excellent sightings, the best in the world some say! Our guests are very impressed by the high standard offered by our boat company who are dedicated to offering you the best experience, nothing is too much trouble.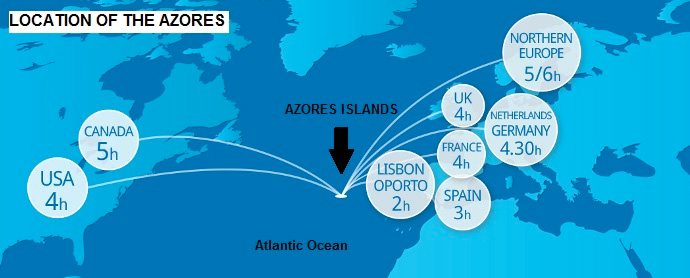 Location and Flights
Holiday location: Ponta Delgada (PDL), Sao Miguel Island, Azores.
The Azores are an archipelago of 9 islands in the middle of the Atlantic - the only territory between America and Europe. There are 3 groups of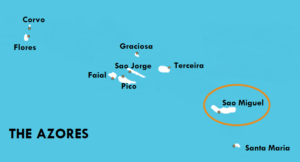 islands: the eastern group (Sao Miguel, Santa Maria), the central group (Faial, Pico, Sao Jorge, Terceira and Graciosa) and the western group (Corvo and Flores).
This holiday takes place in Ponta Delgada, the capital of Sao Miguel Island, in the eastern group and the largest island in the archipelago.
The abundance of dolphins and whales around the islands make the Azores one of the key locations worldwide for whale and dolphin watching. Few locations in the world offer such immaculate landscape and exceptional marine wildlife. A Portuguese territory, the nine islands, dominated by a volcanic mountain range, offer a rare and unspoiled natural beauty, having retained their cultural integrity and escaped the ravages of commercial tourism. There is a wild and elemental quality here, the ocean's presence is never far away and breathing the air alone is invigorating. Some say, it is the last vestiges of the lost continent of Atlantis! Hot springs steam into the fresh and unpolluted air. There are meadows filled with the scent of wild herbs and vivid, colourful flowers line the roads. It is the perfect setting to relax and slow down.
Flights are not included in the cost of our holidays. Weekly DIRECT day time flights from the UK to Ponta Delgada are available with Ryanair from Stansted on Tuesdays (April - October), British Airways from Heathrow on Saturdays (mid-May to end of September) and from Gatwick on Tuesdays and Thursdays with SATA Azorean Airlines (June - Sept). On most days of the week there are flights from the UK to Ponta Delgada via mainland Europe. Direct flights also operate from America and Canada and some European cities including Paris. See all current flight options at Skyscanner. 
For ease we have a dedicated flight booking agent, Rupender Bhoday from The Flight Centre. Rupender knows our holidays and can book the best flights for you. Please email:  [email protected]  or call: 07442 857639. You can also reach her via The Flight Centre main contact number 0207 925 1114 (ask to speak to Rupender Bhoday on the "Associates" team).
For information from the UK Civil Aviation Authority about travelling with mobility equipment please click here
Sample Itinerary
Day 1
Arrival day – You will be met at the airport and transferred to your hotel.
Day 2
Make your way to the boat base or let us arrange transport for you. Get ready for your first trip to sea for dolphin and whale watching
Day 3
Another trip to sea today dolphin and whale watching. Either head to the boat base under your own steam or let us arrange transport for you.
Day 4
Making the most of the opportunity to dolphin and whale watch today, your last sea trip.
Day 5
A free day today, explore the nearby botanical gardens.
Day 6
A free day today to explore or some retail therapy at the nearby shopping centre.
Day 7
Another free day or book an additional trip either to sea or land.
Day 8
Departure. If you have time before your flight you can do some souvenir shopping. You will be picked up from your hotel and taken to the airport
Discover, be inspired! Marine wildlife, sea air and the wow factor
Read More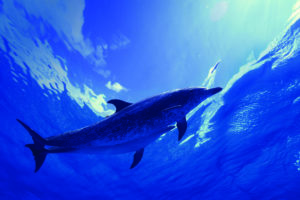 You will come away bursting with facts about the world's largest whales and dolphins
Best place to see Dolphins and whales in the wild
Read More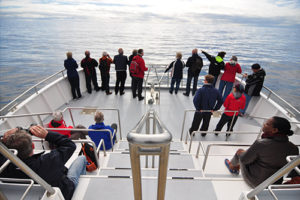 The Azores archipelago is renowned as one of the best places to see dolphins and whales in the wild. Throughout the year, March to October being the best time to visit for abundant sightings and diversity of species. The whale numbers and sightings seem to be increasing around the Azores, as are the super pods of various species of dolphins riding in the bow wave of the boat and leaping and twirling with joy. All our trips are with responsible operators who have sensitivity and respect for the wellbeing of the whales and dolphins. The ethos on the Islands is to preserve the natural environment and develop responsible and sustainable tourism that contributes to conservation.
"The ocean around the Azores islands is teeming with resident and transient whales and dolphins. It is one of the best places in the world to see Blue Whales in the spring and an abundance and variety of species all year. These fascinating Islands at sea and on land are easy to reach from Europe on a direct 3 hour flight!"
Read More
This holiday includes 7 nights in a standard 3* hotel with accessible rooms. You can choose to upgrade to a superior 5* hotel (with accessible rooms). We also have a range of alternative accommodation available.
The tours to Furnas and Sete Cidades were really impressive and showed what a beautiful and unique place the island is. We really felt that we got to know the island really well and the local tour guides ensured that we saw as much as possible.
Sarah Bates May 2023 comments about the team at our boat base: "Rarely have I found an organisation offer so much support for someone with a disability. Amazing amazing. Mum thought that, in her wheelchair, being disabled, the she would never be able to do this. But you made it happen".
Authentic cuisine pleasant ambience. The Cozido meal at the Caldeira das Furnas was a simple but lovely experience. The ambience was accentuated by the diversity of people on the tour and the way our guide blended the atmosphere. – Ada Sam April 2022
Everything was extremely organised, from the holiday booking, transfers, hotel/hotel staff and the boat crew. They couldn't have been more helpful and extremely welcoming…a great holiday and we would recommend to anyone. – Lynsey Pittaway April 2022
"The trip to Furnas was spectacular, and so much more than we anticipated with the tea plantation, crater lakes, botanical gardens and bathing in the orange iron water. We also saw much more of the island than we expected that day as we travelled there on the south side and back on the north (or vice versa). Sao Miguel is a beautiful island all in all." – Richard Rose-Casemore May 2022
Prices for this Holiday and Acccommodation
Use the tabs below to find out more about our different accommodation options
 Our holiday prices below include accommodation at the 3* Neat Hotel in an accessible bedroom
You can also upgrade to a superior 5* Hotel
Accessible Ocean Discovery Holiday
3* Neat Hotel
Mid Season • 01 - 30 April & 01 - 31 October
---
Solo traveller (single room) £1020
Adult price, per person (2 sharing a double/twin room) £795
3rd adult sharing a room £750
Price does not include flights
High Season • 01 May - 30 September
---
Solo traveller (single room) £1180
Adult price, per person (2 sharing a double/twin room) £875
3rd adult sharing a room (triple) £750
Price does not include flights
Located in the heart of Ponta Delgada 5 mins walking distance to the harbour where you board your boat, the Neat Hotel features an innovative and unique style with a green/earthy colour scheme reflecting the stunning natural environment in the Azores. Entrance to the hotel is level and lifts to all floors from the entrance level. The Neat Hotel is both young and hip but also professional and comfortable. Rooms are modern and feature en suite facilities, cable TV, desk, seating area and air conditioning. The accessible bedrooms with en-suite bedroom are spacious. There is a large and varied breakfast buffet. The 120 room hotel has recently been re furbished – it is very clean and all the bed linen and towels are of a high quality. There are snack services, a ground floor lounge area with large screen TV and a basement gym and sauna. The Hotel offers 24 hour front desk services and free WIFI throughout. A business centre supplies newspapers for guests at the hotel. Ponta Delgada airport is a 10 minute drive from this location (airport transfers are included in this holiday)
Wheelchair/walker accessible path of travel
Wheelchair accessible registration desk
Accessible bathroom
Wheelchair/walker accessible around the hotel with use of lifts
In-room accessibility
Please note The bed in the rooms is the standard height and not adjustable. The bathrooms have enough room to move around and have a shower instead of a bath. There are no hoist facilities. This hotel is suitable for people that have reduced mobility and are able to weight-bear. If you have requests for specific accessibility needs, please contact us to ensure this hotel can meet your requirements.
This recently refurbished hotel as a formal and traditional elegant style and is well known for its prime location. Just 3 minutes walk to our boat base and close to the historical centre, the hotel faces the marina and the ocean. The design while contemporary evokes the European style of "Grand Hotel" with references to Ponta Delgada's maritime history.  The restaurant "Barcarola" overlooks the marina and specialises in Portuguese cuisine while the new "Clipper" bar specialises in Portuguese cuisine and serves breakfast, brunch, dinner and light fare. The hotel has an indoor pool and fitness suite, free WiFi and 24 hour room service. Hotel rooms are sound proofed and come equipped with flat screen cable TV , mini bar and air conditioning.
Lift

Accessible bathroom (select rooms)

In-room accessibility (select rooms)

Wheelchair accessible

Wheelchair-accessible parking

Wheelchair-accessible registration desk

Wheelchair-accessible lounge

Raised toilet seat

Low-height worktop and sink
Mid Season • 01 - 30 April & 01 - 31 October
---
Solo traveller  £1765
Adult price, per person £1140
3rd adult sharing a room £860
Price does not include flights
High Season • 01 May - 30 September
---
Solo traveller (single room) £2005
Adult price, per person (2 sharing a double/twin room) £1260
3rd adult sharing a room (triple) £860
Price does not include flights