Ocean Giants, Exclusive Small Group Tour
Blue Whales, Fin Whales and Humpback Whales
Pico Island, Azores
2023 DATES: 29 April – 06 May, 06 – 13 May 
2024 DATES: 27 April – 04 May, 04 – 11 May
Prices from £990
Join this exclusive small group tour to witness one of nature's great events, huge gatherings of the biggest whales on the planet to this remote and unspoilt Island to feed in the nutrient rich waters – a breath taking spectacle!
Ocean Giants, Exclusive Small Group Tour
Blue Whales, Fin Whales and Humpback Whales
May offers a unique opportunity for you to come and see these Ocean Giants during their Mid Atlantic annual migration.
Overview
Location: Pico Island, Azores
What's included:  
5 half day excursions on a research boat
Guests accompanied by expert whale researcher Rui Santos
Full day Pico Island land tour
Exclusive small group tour (max 14 guests)

7 nights accommodation 

Group meal at the beginning and end of holiday with our expert guide

All airport transfers from/to Pico Airport 
Extra nights: Option to extend your stay in the Azores with extra nights at your hotel or visit other islands
Accommodation:
Choice of  accommodation with breakfast in a luxury hilltop villa, 3*** village hotel or one bedroom apartment with sea view. Option to upgrade to 4**** village hotel with pool for a supplement.
Meals: Breakfast included. Self catered options available.
Flights are not included.  We give you guidance on booking flights to Pico Island, Azores (PIX). See location and flights above
2023 dates: 29 April - 06 May, 06 -13 May
2024 dates: 27 April - 04 May; 04 - 11 May
Optional activities: book additional trips to sea and land tours
Read More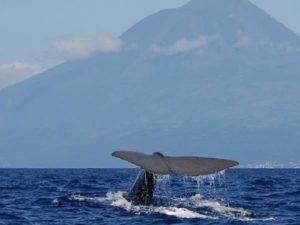 On this exclusive tour, you have a rare opportunity to go out with a whale researcher and expert guide on one of the more remote islands of the Azores, Pico. Spending time on Pico gives a real taste of the traditions and heritage of the Azores as it is one of the less populated, more isolated volcanic islands of the archipelago. Enjoy breathtaking views of the dramatic geological formations and caves surrounded by the Atlantic Ocean crashing on to the black craggy cliffs of volcanic rock below.
The sightings here are exceptional with very few other boats. Pico Island formed from a volcano and the majestic Mt Pico stands tall above the island, luring many people to make the ascent to the top, above the clouds. The sides of the mountain also descend deep into the ocean on the south coast of Pico which sets up the perfect conditions for an upswell of the phytoplankton where the whales can feed. Our whale expert chooses to conduct his research here as the sightings are so exceptional.  You will be given talks about whale behaviour and recent discoveries, with opportunities to observe their feeding, hunting and socialising. The research boat will go to areas off the main whale watching trail and will frequently be surrounded by curious dolphins and whales.
We offer this special small exclusive group tour for two weeks in April and May. The tour dates are set at the best time to get some excellent sightings of Blue whales, Fin and Humpback whales when they stop over to feed on the nutrient rich-water close to shore.
We take care of all the logistics so you can relax and enjoy the experience
Read More
From the moment you step off the plane, our team will ensure everything is taken care of. You will be met at the airport and taken to your hotel where you will meet your expert guide over welcome drinks.  Your guide will be with you throughout the duration of your holiday ensuring you get the best experience possible. There will be regular briefings and updates, with plenty of opportunities to ask questions.
Small group tour and guide
Read More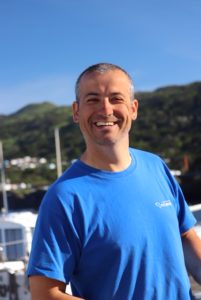 You will be part of an exclusive small group tour where you will meet other like-minded whale enthusiasts, accompanied by our renowned whale researcher and expert guide, Rui Santos. Rui has been conducting research and guiding tours in Pico for many years. He is very enthusiastic and knowledgeable. He provides a programme of talks and activities, as well as ensuring everything goes smoothly and you get the best opportunities for sightings. Some meals are included for the  group in local restaurants with your guide.
"Our tour was led by expert guide, Rui, a whale researcher who collaborates with whale researchers worldwide, which is vital for this species protection. Passionate, hardworking, sharing and kind sums Rui up to a tee. He is literally the nicest guy you will ever meet! The guide and the local team were always caring, smiling and super enthusiastic. The trips out to sea were utterly amazing with many sightings of Blue, Sperm and Fin whales together with several dolphin and turtle species. There were numerous other creatures all expertly described by Rui (the man's knowledge is unbelievable).We were also educated as to the role of the spotters (locally know as the Vigia) and we were fortunate to meet one who guided us to the animals, learning about this was a real pleasure.
We were given short seminars after the trips recapping on what we had seen and allowing us time to consider what we had seen and to ask Rui questions. He was always passionate about sharing his fascination for these animals and all things nature in general.
I was very worried about getting seasick as I'm not good on the water, however just taking some travel sickness pills sorted that out and I had no issues at all." Richard Christie
Why are the Blue Whales 'Ocean Giants' choosing the Azores?
Read More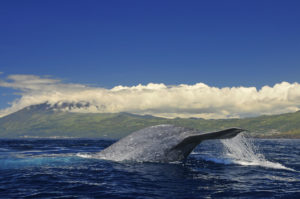 Cetaceans are drawn to the Azores by the fertile water, rich in phytoplankton, which is the perfect place for the 'baleen whales' to stopover to feed en route north. Every year, a  spring phytoplankton bloom warmed by the temperate waters of the gulf stream around the Azores archipelago attracts a unique gathering of huge, ravenous Blue, Fin, Sei and Baleen whales (largest whales) on their migration routes to the feeding grounds of the northern Atlantic. Their numbers are increasing around the Azores and Pico Island which boasts some exceptional sightings.
Read More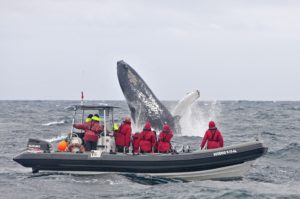 The boats used are hard hulled inflatable RIB boats (exclusive use). The boats are very sturdy and can move easily and reach the whales swiftly, even if the sea is choppy. However, there can be some jerky movements on rougher seas. If you have back problems, or feel you prefer a boat with toilet facilities, we recommend you go on the Ocean Giants small group tour on Ponta Delgada as this tour uses a large stable catamaran.
Often, our boat is the only vessel around the animals which is very special. The research boats go to the best places to see the whales and approach with minimum disturbance in order to see as much natural behaviour as possible.
"We were on the boat and a huge gasp went up from everyone on board; a Fin whale had swum in front of the boat and opened its mouth out of the water to feed. It was only a split second but that sight is engraved on my memory." Margaret Merris, May 2018
Island tour included in your holiday
Read More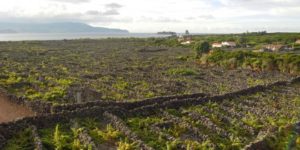 We will start our tour through the central part of the island. Once at the top, we will visit Lagoa do Capitão, one of the most beautiful lakes in Pico. It is part of the protected landscape area of "zona central" and also a good place to observe resident and migratory birds  as well as the native vegetation. Crossing the high plateau to the North Coast, we can enjoy excellent views of the ocean and the neighbour island São Jorge. From here we continue in the direction of São Roque where we get to know one of the many natural pools that is very appreciated by the local community. 
At the town of São Roque we visit the Whaling Industry Museum where we will learn more about our history. From here, we drive through the coastline with stops at Cachorro and Lajido – ancient wine production places. There, we will find typical adegas (wine cellars) and other places associated with the golden wine age. After lunch at a local restaurant in Madalena, we will stop in the vineyards of Criação Velha, the most emblematic place to understand why Pico's vineyard landscape was classified UNESCO Heritage in 2004. On the way back to Lajes we still have time to stop at the Mistery of São João, one of the latest volcanic eruptions of the island. This tour has it all: interesting facts about whales, wine, beautiful landscapes, local culture and traditions. It will give you a global overview of Pico Island. 
Flights from the UK and mainland Europe via Lisbon or Porto to Pico Island
Read More
It is easy to get to The Azores on flights from many UK and European airports, as well as from the USA. You can also travel via Lisbon and Porto from mainland Portugal.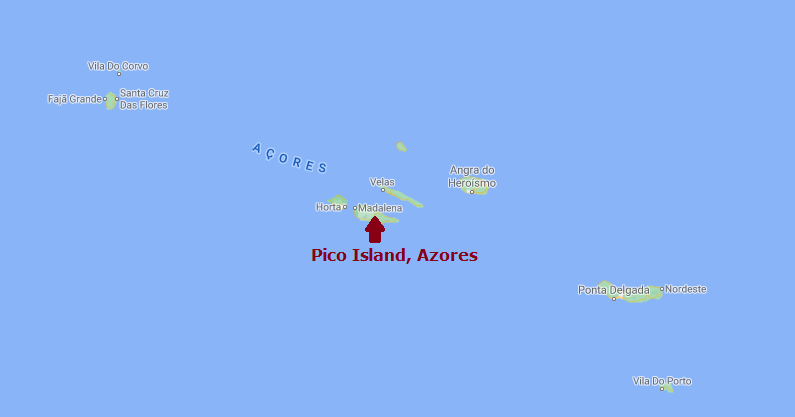 Location and Flights
Location: Pico Island, Azores. The Azores, an autonomous region of Portugal, are an archipelago of 9 islands in the mid-Atlantic.  This holiday is based on Pico Island, Azores (part of the central group of the islands). The abundance of dolphins and whales around the Azores makes Pico Island one of the key locations worldwide for whale and dolphin watching.
The following is information about DIRECT FLIGHTS FROM UK TO PONTA DELGADA:
Flights
Flights are not included in the cost of our holidays. This holiday takes place on Sao Miguel island, Azores and you will be staying in Ponta Delgada, a 15-minute drive from the airport.
From April to June 2022
From Stansted (STN) to Ponta Delgada (PDL)
Saturday direct day time flights with Ryanair
From Manchester (MAN) to Ponta Delgada (PDL)
Friday direct flights with Ryanair
From July to August 2022
From Stansted (STN) to Ponta Delgada (PDL)
Saturday direct day time flights with Ryanair
From Heathrow (LHR) to Ponta Delgada (PDL)
Saturday direct day time flights from Heathrow (LHR) to Ponta Delgada (PDL) with British Airways
From Manchester (MAN) to Ponta Delgada (PDL)
Friday direct flights with Ryanair
From September to October 2022
From Stansted (STN) to Ponta Delgada (PDL)
Saturday direct day time flights with Ryanair
From Manchester (MAN) to Ponta Delgada (PDL)
Friday direct flights with Ryanair
There are also flights from regional airports to Ponta Delgada via Lisbon/Oporto. Check all options for flights to Ponta Delgada at www.skyscanner.net
For ease we have a dedicated flight agent who can help arrange and book flights (except Ryanair) for you. Please contact [email protected] or call Rupender on 0207 925 1114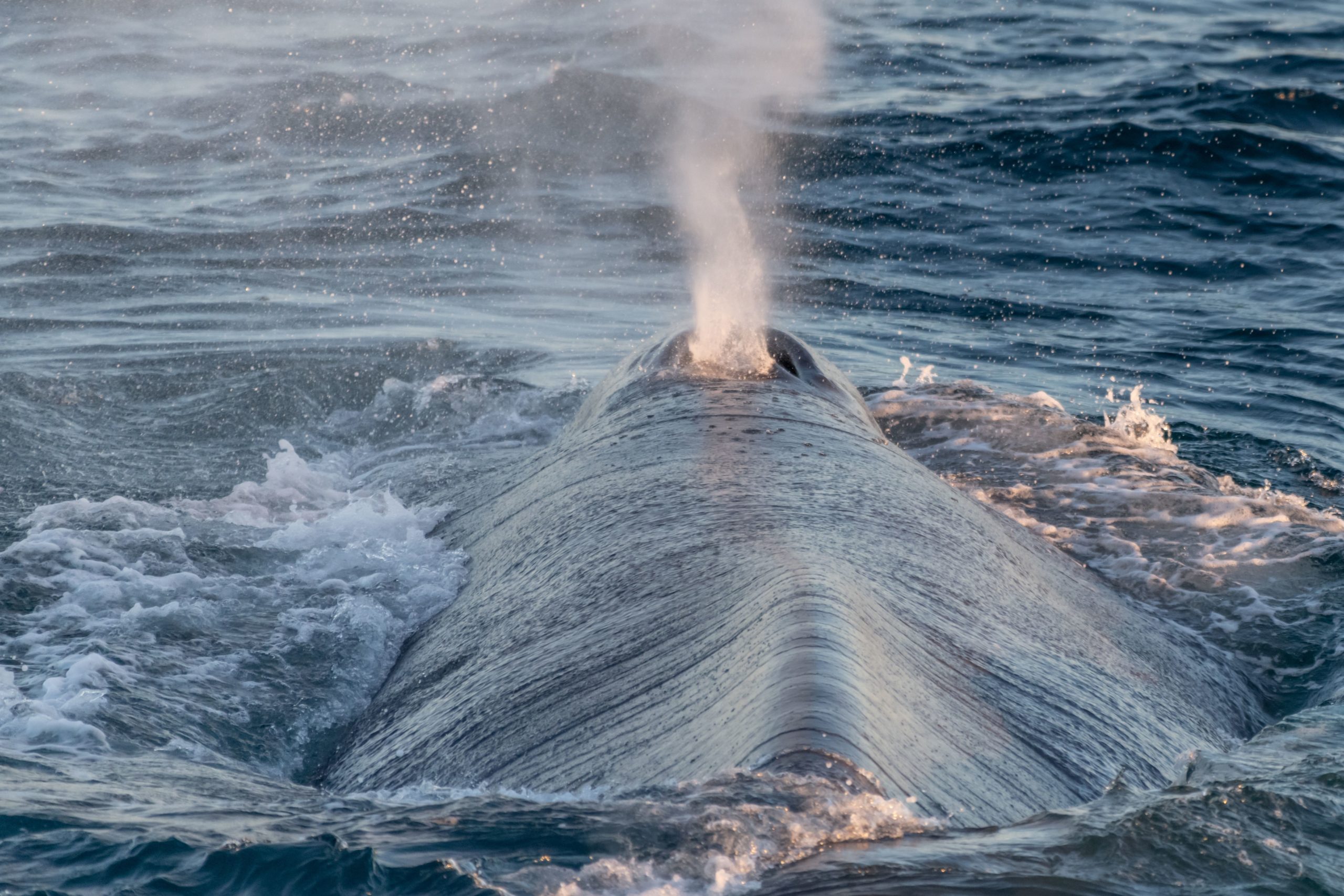 Itinerary
Day 1
Arrival in the Azores. Transfers to hotel. Welcome briefing and introductions, complimentary drinks, orientation in the local area. You have time for a rest! Schedule of whale-watching boat trips will be discussed and you will have a chance to meet the whole team and your guide, Rui Santos, during your complimentary dinner a local restaurant with group in the evening.
Day 2
Board the RIB Zodiac for morning whale-watching. At convenient times during the week you will be given audio-visual briefing about the whales and dolphins of the Azores, with lots of visuals and information about the history of whaling and whale-watching in the Azores. Your on board guide will provide in depth information about the wildlife and will be available to discuss the sightings, share his research and help you get the best shots of the whales!
Days 3 to 7
Overall itinerary of the week will be announced when you arrive to fit with best weather. Each day will be either morning or afternoon boat trip. There will be opportunities for excursions around the island to fit with your five half-day trips to sea. If there is any weather disruption your trips will be moved to another day or later in the day so that you go out during the best possible weather and conditions. Evening meals will be a combination of eating in the hotel restaurant and eating with the group and guide (subject to group preference). There will also be further talks and presentations from the marine biologist giving you a rich understanding of the whales of the Azores, local history and culture.
Day 8
Departure day. Transfer to airport from hotel.
Other activities
A full day tour of the island is included to give you a chance to appreciate the island's rugged beauty and charm. Learn about the local culture, the volcanic origins of the island and see the vineyards, caves and mountain villages There is access to swim in the sea from a sheltered lagoon (temperature permitting), nearby walks, bird watching, snorkelling and diving. We also offer talks and presentations on marine and land birdlife. There is a whaling museum giving the history of the old whaling culture which stopped 25 years ago.
Your expert whale watching guide in Pico
Read More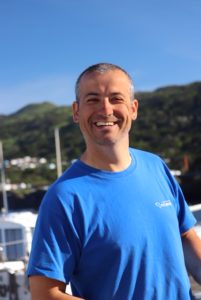 This exclusive small group is led by expert whale researcher and guide, Rui Santos. He has worked as a whale watching guide for the last 12 years and is always very popular with the guests. He is very enthusiastic and passionate about dolphins and whales – you will certainly learn a lot. He genuinely wants to do everything to ensure you have the best experience possible.
Rui Santos has a masters in Marine Biology and has been conducting his ongoing research in Pico since 2008. He has had several publications and lectures about some of his discoveries on this remote location. On this tour, you will have a chance to assist him with his research: for example, photo ID, acoustic sampling with the hydrophone and data collection.
View the whales underwater in 'real' time using an underwater Go Pro as they pass beside the boat.
Read More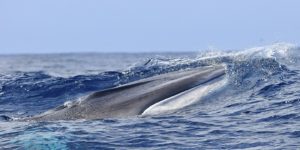 In recent years, we have been blessed with some exceptional sightings. Our groups have seen Blue, Fin and Humpback whales on many occasions, some so close to the boat you could smell their 'exhale' which had the aroma of their over-indulgent feeding on the krill. Even when the weather is challenging, we are usually able to reschedule cancelled boat trips to another day.
Land based lookouts to locate the whales
Read More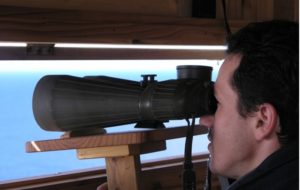 Our expert lookouts or 'Vigia' can spot the whales from land as they pass close to the volcanic islands and they direct the boats by radio contact to locate the whales. This makes for consistently excellent sightings, said to be some of the best in the world. It is a much more efficient system than searching for whales when out at sea. The lookouts were historically used to sight whales for hunting which was banned in the Azores nearly 30 years ago. The lookouts are employed by the whale watching companies instead for tourists to appreciate the beauty of these magnificent creatures rather than killing them – a true win for conservation.
Read More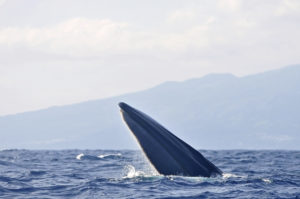 The Azores boasts a tremendous variety of species with these giant migrating 'Baleen whales' frequently sighted in the spring as well as the resident Sperm whales who make the Azores their home as well as their breeding grounds. We frequently see the nursery groups of females with young. The abundance of dolphins are a delight, riding in the bow wave of the boat, leaping and twirling with joy. It is also possible to observe short finned Pilot whales, Orca, Bottlenose whales, seven species of dolphin, sea birds and marine life such as turtles and manta ray.
Responsible boat operators
Read More
Our whale watching company has a research base offering a wealth of information and resources for our guests and it is possible to learn about the many research projects and conservation efforts being conducted around the Azores. Our guests are very impressed by the high standard offered by our boat company who are dedicated to offering you the best experience, as well as ensuring that all boat approaches are done in a responsible way where the welfare of the whales comes first.
I would just like to say that this holiday far surpassed my expectations. The whole holiday from beginning to end was very well organised…I would definitely recommend this holiday to any wildlife and nature lovers…Pico Island is so unspoilt, it's a great place to relax and not touristy at all. The day tour of the island was very good and very informative. – Helen Shimwell May 2022
The whole holiday was a dream come true…Our guide was phenomenal, his passion and knowledge of the cetaceans shone through all week and the crew on the rib were fantastic too both knowledgeable and engaging. Everything was well organised, and as a solo traveller that gave me peace of mind. I look forward to my next trip! – Helen Shimwell May 2022
"Seeing so many whales and dolphins, the group I was with, the fantastic hotel I stayed in. The holiday benefited local people and supported conservation. A magical holiday. Pick the exclusive small group tour, I think there is a bonding when there are only 12 people, compared with having a lot more people and you get longer at sea" Alice Caldwell
"Our tour was fascinating, led by an expert guide and whale researcher, really lovely guy who gave short seminars after the trips recapping on what we had seen and allowing us time to consider and ask questions as he was passionate about sharing his fascination for these animals and their conservation. The sightings were outstanding and all the team ensured we were always where the action was!"  Richard Christie
"What I liked about this tour was that often we were the only boat out with the whales – we felt privileged to have so much time with the whales and observe their behaviour first hand" Rosy Hughes
The cost of this tour varies according to your choice of accommodation. The standard accommodation is our 3* harbour hotel or you can upgrade to a 4* hotel, luxury villa or private house.
Prices for this Holiday including Acccommodation
Use the tabs below to find out more about our different accommodation options
 With views across the ocean and towards Mount Pico and just 3 minutes walk to the marina, this hotel is in a great location. Rooms come equipped with satellite TV and a private bathroom with shower.  Buffet breakfast is included.
Ocean Giants Small Group Tour, Pico Island, Azores Prices
Including 3* BB at Hotel Bela Vista
£990 per person
Single person supplement £120
2023 Dates:
29 Apr – 06 May (available) & 06 – 13 May (available)
This beautiful hotel which has a unique and dramatic setting is perched on cliffs high above the Atlantic ocean. It is renowned as one of the top hotels in the Azores and is classed 4**** The villas are nestled in the beautiful mature gardens. This "Nature Hotel" is the perfect way to enjoy the blue of the ocean and the green of the gardens. The hotel has a sauna and Gym, natural salt water swimming pool and access to the sea.
It consists of separate villas made of the local volcanic stone set in beautiful landscaped gardens. It is a haven of tranquillity, beauty and rustic charm where you feel the island's elemental origins and breathe the unpolluted ocean air. It is surrounded by forests and vineyards and has fabulous views of the spectacular volcano which is dormant. Its landscaped gardens lend themselves to socialising in the garden-restaurant under vines and orange trees. There are also many magical and tranquil hidden away places to relax in hammocks or gaze out to sea. There is also a swimming pool and barbecue looking out to the ocean. Dolphins and whales can often be sighted from here. The owners and staff are friendly and hospitable hosts and the hotel has a very good standard of comfort and amenities. The hotel has a reasonably priced, excellent restaurant serving local fish and seafood, superb international cuisine, and offers an extensive and imaginative vegetarian selection.
The Rooms
The accommodation comprises private en-suite twin rooms with tv, and seating area. There are also studio en suite rooms which are bigger than the twin have two beds, sofa chairs, tea making facilities, a fridge and many have access to a terrace with views to the ocean or gardens. The suites are like private apartments. They have a master bedroom with a separate lounge with sofa bed (third person) and armchairs with a kitchen and bathroom. This is ideal for three sharing. The bedroom, lounge and bathroom all lead to a private entrance hall.
Other Facilities
Our guests have use of the swimming pool which is situated in a dramatic location looking out to the ocean. It is a saltwater pool and is a perfect spot to relax and read a book or for the children to play.
There is a gym, sauna and relaxation area as well as a masseuse by request.
There are two bars, one with a large lounge with sofas, a library and internet café. The hotel has WiFi. There is a shop with local artisan crafts. The hotel can arrange a cultural tour of the island with the wife of the owner of the hotel who is an expert on local history, culture, flora and fauna. She is the inspiration behind the gardens which are very beautiful. There are many nature walks in the forests nearby. Access to the sea for swimming is a 5 minute walk from the hotel along the cliff path.
The Restaurant
The hotel restaurant is situated inside or during the summer you sit outside under the vines on the terrace. Our guests love the food which is renowned as the best restaurant on the island. Local fish and meat dishes are served as well as a wide range of international and vegetarian cuisine. The meals are all freshly prepared so take time over your meal which will be served by the restaurant staff. The wine menu has a selection of impressive local wines.
Ocean Giants Small Group Tour, Pico Island, Azores Prices
Including 4* BB at Aldeia da Fonte Nature Hotel
£1240 per person
Single person supplement £190
2023 Dates:
29 Apr – 06 May (available) & 06 – 13 May (available)
Our luxury cliff-top villa with beautiful landscaped gardens and private pool, overlooks the sea and Mount Pico. The split level interior is tastefully designed and local stone, materials and labour were used wherever possible during its' construction. The villa is well equipped for the convenience of our guests and breakfast is delivered to the property each morning by our local supplier.
The pool, although unheated, has been specially insulated and is located in a sun-trap. The fantastic plant resource on the island was used as a basis for the planting. The Island has only one beach. It does however have many safe natural swimming areas, enhanced and improved, for the public to use. The nearest of these is directly in front of the Villa, less than a minute walk away.
Ocean Giants Small Group Tour, Pico Island, Azores Prices
Including BB at our Cliff Top Villa
£1050 per person
Single person supplement £120
2023 Dates:
29 Apr - 06 May (available) & 06 – 13 May (available)
Situated in a traditional quiet village in Pico, surrounded by nature and just 5 minutes drive from the boat base our private house is the perfect base for discovering this unique island.
Reconstructed from two very ancient typical houses, it now provides exceptional comfort in beautiful surroundings. Traditional features include basalt walls, wooden floors and wooden ceilings that are combined with abundant natural light, generous open spaces, and exquisite contemporary details, making for a very comfortable yet unique experience. Guests have access to a full kitchen, balconies and terraces, a large dining room and a living room with television and musical instruments.
A traditional Azorean breakfast of fresh local produce is served in the kitchen each morning.
Ocean Giants Small Group Tour, Pico Island, Azores Prices
£1080 per person
This price includes B&B, return boat transfers and return transfers for meals with your tour guide. 
Single person supplement £120
2023 Dates:
29 Apr - 06 May (available) & 06 – 13 May (available)