Family Whale Tails and Walking Trails Holiday Azores
2024 DATES: 30 March – 13 April, 25 May – 01 June, 27 July – 31 August
Prices From Adult £950, Teen £815, Child £585
This holiday explores the inner depths of the island as well as the hidden depths of the ocean. You and your children will step into another world as you follow ancient trails through dense forests, traverse along rugged coastlines and circle volcanic craters. At sea, marvel at the beauty and grace of some of the worlds' largest and most intelligent animals, as you watch whales and dolphins in their natural habitat.
See the biggest animals in the world!
April, May & June is the time to see the many Blue, Humpback and Fin Whales who gather in the Azores on their annual migration.
Overview
Location: Ponta Delgada, Sao Miguel Island - Azore
What's included:  
Two half day trips to sea dolphin and whale watching
Two half day guided walking tours

Talks from local marine biologists

7 nights accommodation 

Services of local personnel at our boat base who co-ordinate your entire holiday program

All airport transfers from/to Ponta Delgada airport.
Optional activities: book additional trips to sea and land tours
Extra nights: Option to extend your stay in the Azores, with extra nights at your hotel, visit another part of Sao Miguel or visit other islands
Accommodation: Standard 4* B&B hotel, with budget and upgrade options available
Meals: Breakfast included. Self catered options available.
Flights are not included.  We give you guidance on booking flights to Ponta Delgada (PDL) Sao Miguel Island (see flights above.
2024 dates: 30 March - 13 April, 25 May - 01 June, 27 July - 31 August
Flexible dates: This holiday can be arranged to start any day of the week to fit with flights
Diverse terrains and varying difficulty levels
Read More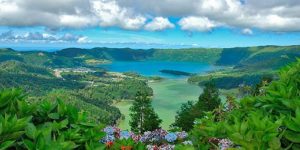 Follow in the footsteps of the first settlers as you trace your way across ancient foot paths and animal trails taking in dramatic coastlines, shimmering blue and green lakes, yawning calderas and ancient sub-tropical forests. Centuries ago the main way to travel around the island was by boat as terrain made it impossible to use oxcarts or carriages, smaller cargo and cattle was transported across land on foot. In recent years great care has been taken to restore these pathways so that you can marvel at glittering waterfalls, witness nature's bounty of flowers plants and trees and look down into the depths of the deep green crater lakes as you hike along the rim of a volcano, all untouched for millennia.
Our incredible guides will enthuse you with their knowledge of numerous endemic species of birds, flora and fauna and the incredible biodiversity of these islands, which erupted from the ocean over 200 million years ago!
Walking difficulty levels range from gentle to strenuous, half day and full day options and you can opt for self-guided if you prefer. There are numerous routes and we can help you choose the best ones for you and your family.
Ideal climate all year round
Read More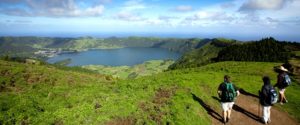 The Azores are a perfect year-round destination. Located in the Northern Hemisphere, they enjoy a mild climate 12 months of the year. In the peak of summer temperatures tend to be around 22°C and don't often drop below 13°C in the winter. Perfect conditions for walking!
Our whale watching boats operate all year round as well. Weather is, of course, changeable out in the middle of the ocean but our expert guides will arrange your week so that you take your whale watching excursions during optimum sea conditions. Walking options inland and along the coast mean you will always have great opportunities to see whale tails or walking trails whatever the weather.
This is an ideal winter holiday, leave behind the wind and the rain and take this opportunity to get some, very, fresh air and enjoy the great outdoors. The mild climate means there is no need for woolly hats and thermals and the biodiversity of the island blooms year round. You'll see no bare trees here, only lush green foliage! At night gaze up at starry skies and indulge in the thermal hot pools, forty minutes away from your hotel. Some of the walking trails even lead you directly to them in the town of Furnas.
Best place to see Dolphins and whales in the wild
Read More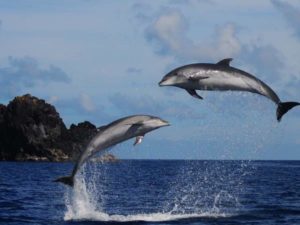 The Azores archipelago is renowned as one of the best places to see dolphins and whales in the wild. Throughout the year, March to October being the best time to visit for abundant sightings and diversity of species. The whale numbers and sightings seem to be increasing around the Azores, as are the super pods of various species of dolphins riding in the bow wave of the boat and leaping and twirling with joy. All our trips are with responsible operators who have sensitivity and respect for the wellbeing of the whales and dolphins. The ethos on the Islands is to preserve the natural environment and develop responsible and sustainable tourism that contributes to conservation.
Read More
We offer attractive child prices (12 years and under) when sharing a large quad room with adults, and also teen discounts. You can select the style and budget of an accommodation option that suits your needs. Our standard 4* hotel is included in the package price and you can upgrade to a boutique 5* hotel. There is a budget option to reduce the cost of your holiday.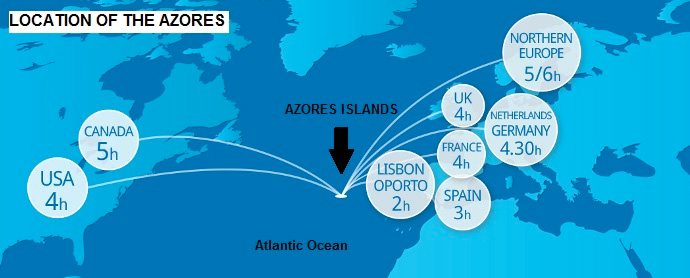 Location and Flights
Holiday location: Ponta Delgada (PDL), Sao Miguel Island, Azores.
The Azores are an archipelago of 9 islands in the middle of the Atlantic - the only territory between America and Europe. There are 3 groups of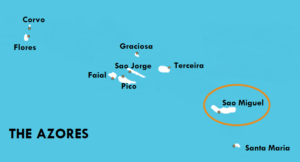 islands: the eastern group (Sao Miguel, Santa Maria), the central group (Faial, Pico, Sao Jorge, Terceira and Graciosa) and the western group (Corvo and Flores).
This holiday takes place in Ponta Delgada, the capital of Sao Miguel Island, in the eastern group and the largest island in the archipelago.
The abundance of dolphins and whales around the islands make the Azores one of the key locations worldwide for whale and dolphin watching. Few locations in the world offer such immaculate landscape and exceptional marine wildlife. A Portuguese territory, the nine islands, dominated by a volcanic mountain range, offer a rare and unspoiled natural beauty, having retained their cultural integrity and escaped the ravages of commercial tourism. There is a wild and elemental quality here, the ocean's presence is never far away and breathing the air alone is invigorating. Some say, it is the last vestiges of the lost continent of Atlantis! Hot springs steam into the fresh and unpolluted air. There are meadows filled with the scent of wild herbs and vivid, colourful flowers line the roads. It is the perfect setting to relax and slow down.
Flights are not included in the cost of our holidays. Weekly DIRECT day time flights from the UK to Ponta Delgada are available with Ryanair from Stansted on Tuesdays (April - October), British Airways from Heathrow on Saturdays (mid-May to end of September) and from Gatwick on Tuesdays and Thursdays with SATA Azorean Airlines (June - Sept). On most days of the week there are flights from the UK to Ponta Delgada via mainland Europe. Direct flights also operate from America and Canada and some European cities including Paris. See all current flight options at Skyscanner. 
For ease we have a dedicated flight booking agent, Rupender Bhoday from The Flight Centre. Rupender knows our holidays and can book the best flights for you. Please email:  [email protected]  or call: 07442 857639. You can also reach her via The Flight Centre main contact number 0207 925 1114 (ask to speak to Rupender Bhoday on the "Associates" team).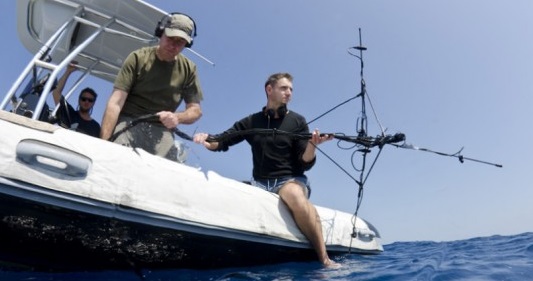 BE A MARINE BIOLOGIST FOR THE DAY
£118 (adult) £67 (child 12yrs and under)
All of our holidays offer the once in a life time opportunity for you to "Be a Marine Biologist for a Day" – the perfect program for those with a keen appetite to learn. You will enjoy talks from our marine biologists before spending a full day with them on a small RIB learning research techniques such as data collection, photo ID and listening to underwater acoustics using the hydrophone. You will get away from the main tourist trail and have opportunities for a lot more contact with the animals. This a fully immersive day allowing you to step inside the shoes of our marine biologists and learn about their research. This activity can be added onto your holiday program.
Your day starts at our local boat base, walking distance from your hotel, with talks from our marine biologists. You will then board the sturdy RIB zodiac boat and spend a full day at sea, travelling further along the coast to rich feeding grounds, giving you a closer look into the lives of the whales and dolphins you'll meet – some are even known by name!
You will be accompanied by our expert local guides and marine biologists who love sharing their extensive knowledge of these incredible creatures. They will teach you research techniques such as data collection, photo ID and listening to underwater acoustics using the hydrophone.
You will break for lunch, on land, joined by your marine biologist so be sure to ask lots of questions!
You'll learn about the biology, habitat and behaviour of the cetaceans and participate in valuable research and conservation initiatives helping to preserve the oceans for future generations.
This is a superb addition to any trip and is ideally suited to adults and children who are keen to get hands on in the world of conservation.  
This is a 6 hour tour consisting of 4 hours out at sea and 2 hours at the boat base with talks and presentations. A packed lunch is given with the choice of eating out at sea or at the boat base.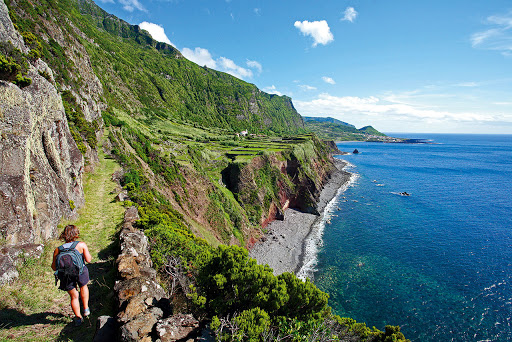 Sample Itinerary
Day 1
Arrival day – You will be met at the airport and transferred to your hotel.
Day 2
Enjoy a leisurely morning exploring the local town and walking around the stunning botanical gardens. You could even take a dip in the towns naturally heated open air pool before heading down to the boat base for your first half day whale and dolphin watching trip to sea. You will be given the onboard briefing all about Marine life in the Azorean Ocean, how we work and how best to spot the whales.
Day 3 – 6
Overall itinerary of the week will be announced when you arrive so that your trips to sea, whale and dolphin watching, are taken during the best possible weather and sea conditions. Over the course of the next few days you will have the opportunity for one more amazing morning or afternoon trip to sea and you will embark on two half day walks along the coastlines or inner depths of the island. Your routes and durations can be decided with your guide each day.
Day 7
Today is a free day and the perfect opportunity to visit the geysers deep in the island's interior at Furnas. Here you will find a stunning hot thermal swimming lake set in botanical gardens, designed a 100 years ago by the Kew gardeners. Learn about the geothermal activity on the island and relax in the mineral rich waters as you soak your aching muscles. This is the perfect time to sit back, relax and contemplate all the wonders you have seen this week. Or you could head out on additional walking tour or mountain bike tour, try kayaking or SUP on the lake, or for the more adrenalin fuelled of the family, take the plunge and go canyoning.
Day 8
Depending on your departure time there may be time for one last spot of shopping after breakfast or even an extra boat trip in the morning. Transfer to airport for flight home.
Discover, be inspired! Marine wildlife, sea air and the wow factor
Read More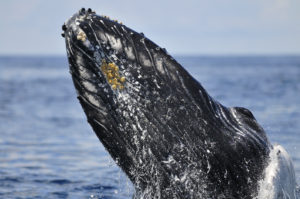 You'll come away bursting with facts about the world's largest whales and the unique biodiversity of the islands. We hope you will deepen your passion for the natural world and more importantly return home with memories that will last a lifetime.
Read More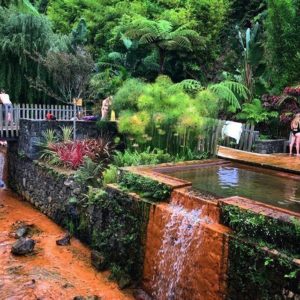 This is a superb opportunity to truly experience everything the Azores has to offer. World renowned for it's incredible ocean life the Azores is also infamous for it's incredible biodiversity and geothermal activity. Exploring the island on foot with our expert guides, you will learn about the islands creation over 200 million years ago and witness it's incredible beauty and majesty. Take a day off and visit Furnas, feel your muscles relax as you soak in the nourishing thermal hot pools.
Education and Conservation
Read More
Our whale watching company has a research base offering a wealth of information and resources and it is possible to learn about the many research projects being conducted around the Azores which contribute to marine conservation. Our guides and researchers have plenty of experience working with children and always make learning fun and accessible for all. 
Read More
You choose your preference of boats from the large stable catamaran with excellent viewing platforms, railings and a great vantage point for taking photos. There is plenty of space to walk around outdoor or indoor seating and toilet facilities OR our smaller RIB zodiac hard hull boats with comfortable seats for an exhilarating ride to get you close to the action. The boats are very sturdy and can move easily even if the sea is choppy.
Everything was extremely organised, from the holiday booking, transfers, hotel/hotel staff and the boat crew. They couldn't have been more helpful and extremely welcoming…a great holiday and we would recommend to anyone. – Lynsey Pittaway April 2022
"Seeing the ocean giants so close was amazing. I recommend booking this experience, and think about adding an extra week to visit the other islands. The information given by the guides was fantastic They work with the university, helping with student research as well as taking out holiday-makers. An excellent holiday." Sarah Grandy
"Seeing far more whales, and more closely, than I ever expected… A wonderful experience." Anne Whittle
"We were lucky enough to see our first blue whale within an hour of setting out in the catamaran. Then seeing over 50 whales and over 100 dolphins over the three days was amazing. We saw blue, fin, sei and sperm whales.
Fantastic holiday! We saw everything we hoped for and more. The Azores are an amazing holiday destination and we enjoyed seeing the interior of the island with its lakes, mountains and geo-thermal activity. As plant lovers, we particularly enjoyed the botanical gardens. We will be back." David Turley
"There were so many memorable moments: seeing five sperm whales "socialising" together and swimming in a perfect line, almost managing to synchronise their "blows", catching a great picture of the tail fin of the massive blue whale, seeing the huge side fins of the humpback just under the water giving them an eerie blue colour, or probably the best of all seeing first a pod of ten orca cavorting in front of us, the male one with a massive fin of more than two metres in height, and then about an hour later seeing either the same animals again or a different pod, this time as two smaller groups. The animals' well being was always the most important factor and so we did not stay long at each siting to allow the whales the freedom to continue with their journey. Overall the holiday was brilliantly managed." Tim Hall
Prices for this Holiday including Accommodation
Use the tabs below to find out more about our different accommodation options
A beautiful 4-star hotel with excellent location and facilities. It is a 15-minute walk to our base for the boats and the city's beautiful botanical gardens are close by. The rooms are light, quiet and well-ventilated. Even though the hotel has great access to our boats, the hotel is far away from the noise of the seafront or busy city areas.
The hotel is ideal for families or large groups and rooms can easily accommodate up to two extra beds. Spacious rooms are sound proofed with air-conditioning and equipped with TV and fridge. There is the option to upgrade to sea/city view rooms (ask us for details). The hotel has a gym, indoor and outdoor pool with sun loungers, sauna, jacuzzi, games room, bar, restaurant with sea views and free parking for guests. A buffet breakfast is included. 
Family Azores Whale Tails and Walking Trails Holiday Per Person Prices
4* Sao Miguel Park Hotel
Low Season • 01 - 30 April & 01 - 31 October 
---
Adult price (2 adults family room) £840
Additional adults/teens aged 13yrs + sharing with 2 adults (family room) £705
Additional children 3 - 12yrs sharing with 2 adults (family room) £530
Infants 0 - 2 years £185
Price does not include flights
Mid Season • 01 - 30 April & 01 - 31 October 
---
Adult price (2 adults family room) £950
Additional adults/teens aged 13yrs + sharing with 2 adults (family room) £815
Additional children 3 - 12yrs sharing with 2 adults (family room) £585
Infants 0 - 2 years £185
Price does not include flights
High Season • 01 May - 30 September
---
Adult price (2 adults family room) £1045
Additional adults/teens aged 13yrs + sharing with 2 adults (family room) £815
Additional children 3 - 12yrs sharing with 2 adults (family room) £585
Infants 0 - 2 years £185
Price does not include flights
All of the accommodation featured below has been visited by us and checked for quality, good reviews, facilities and distance to our boat base and the harbour (5-20mins walk). They are also a short walking distance to good restaurants and shops.
The price of this holiday with any of our alternative accommodation options below is the standard holiday price (staying at 4* Sao Miguel Park Hotel) with either a discount or supplement applied. Please see your preferred accommodation page below for details of the applicable discount or supplement.